Fri, 05/24/2013 - 16:27
'The Immigrant' divides as Kechiche, Ozon court controversy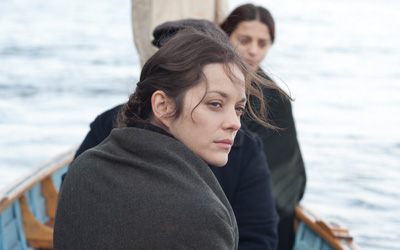 Marion Cotillard in "The Immigrant"

It's just days before the end of the festival, and "Cannes fatigue" has set in.

No amount of coffee or number of power naps can prevent it, and as thrilled as you are to be seeing, talking about and writing on movies, after 11 days of little sleep and almost no down time, your body screams, "No more!".

So, last night, I skipped the press screening of French filmmaker Arnaud des Pallières' "Michael Kohlhaas" and got a bit of much-needed rest. According to many of my colleagues, I chose the right movie to miss.

Outside the screening rooms, two other French directors in competition, François Ozon and Abdellatif Kechiche, brought a dash of unexpected drama to the Croisette by landing in the middle of very different controversies. Ozon, whose terrific "Jeune et jolie" ("Young and Pretty") chronicles a year in the life of a teenage girl who becomes a prostitute, drew fire for his comment in an interview with The Hollywood Reporter that "it's a fantasy of many women to prostitute themselves". Yikes. Kechiche, for his part, was slammed in the wake of the justifiably rapturous reception given to "La vie d'Adèle" ("Blue is the Warmest Color") for allegedly subjecting the film's crew to excruciating working conditions and failing to pay them for overtime. Ouch.

Meanwhile, the competition continued Friday morning with the press screening of one of the most anxiously awaited – and divisive -- works of this year's edition: US filmmaker James Gray's period piece "The Immigrant", starring French actress Marion Cotillard (in her first American lead role), Gray regular Joaquin Phoenix, and Jeremy Renner.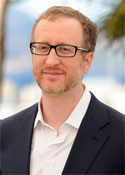 The 44 year-old, New York-based Gray (right) is a bit of an oddity in US cinema: a writer-director of dark, un-ironic melodramas and crime films that combine a polished formal classicism with noir-ish flourishes and plots straight out of Shakespeare or Greek tragedy.

His last three films – the very fine "The Yards" (2000), the less assured "We Own the Night" (2007), and "Two Lovers" (2008), his most distinctive, haunting movie to date – were all in competition here, making him a bit of a rock star in Europe even as he's remained on the margins of the American film industry.

A solid, but strangely uninspired James Gray

"The Immigrant" is in many ways Gray's most ambitious film yet. A costume drama set in early 1920s New York, the film's story, in which a Polish immigrant (Cotillard) is lured into prostitution by a Jewish cabaret director (Phoenix) and tentatively romanced by his magician cousin (Renner), goes to the roots of themes that have always fascinated Gray: the grimy underside of the American melting pot, and the ways that family, community, and the dogged pursuit of the American dream can pull individuals toward excruciating choices with often dire consequences.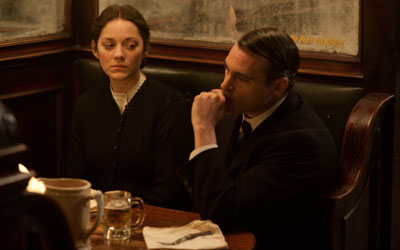 Cotillard and Joaquin Phoenix in "The Immigrant"
The result is a solid, but strangely uninspired work that's absorbing without ever fully grabbing you, despite a subtle and affecting performance by Cotillard and a handful of darkly beautiful moments.
Avoiding the all-too-common trap of overly busy historical reconstitution, Gray, production designer Happy Massee, and cinematographer Darius Khondji draw you into a menacing, sepia-toned Lower East Side teeming with immigrants being swindled by those who've assimilated into a post-World-War-I America in full capitalist swing.

As Cotillard's Eva resorts to selling her body for Phoenix's Bruno, who loves and protects her even as he exploits her, "The Immigrant" plays like an old-fashioned but subdued melodrama, with a pleasingly ripe musical score and scenes full of big emotions performed at a hushed pitch.

Gray (interviewed by FRANCE 24's Eve Jackson at the Marrakesh Film Festival last December, below) is one of the few American filmmakers who can pull this kind of thing off gracefully; "The Immigrant" never slips into tear-jerking pompousness, and he crafts images that feel fresh and thoughtfully composed, but never fussy or studied.

If anything, the film lacks intensity. There are stirring sequences throughout, notably a performance by opera singer Enrico Caruso for new arrivals at Ellis Island and a brief, but splendidly shot chase scene in which Cotillard and Phoenix rush through a dark tunnel, sunlight darting on and off their bodies.

But the characters in "The Immigrant" are a bit thinly imagined, and their relationships with one another slightly programmatic. Even the bond of co-dependence that develops between Eva and Bruno, with her disgust gradually fusing with affection and pity and his desire coloured by contempt and anger at her rejection of him, never gives off the shivers of mystery or ambiguity that made "Two Lovers", for example, such a gorgeous puzzle.

If Cotillard makes the most of a rather one-note character (Eva is essentially a saint), her expressive face registering flickers of strength and surges of sadness, Phoenix is uneven in a trickier role. Though he comes alive in his more explosive, tormented moments (Phoenix's specialty, after all), the actor seems to sleepwalk through the first part of the film, never fully convincing as the effective manipulator he's supposed to be.

The press seemed split on this one, with some cheering as the credits rolled and taking to Twitter to hail it as Gray's masterpiece, while others groaned audibly and rushed for the exit.

I found myself somewhere in between: "The Immigrant" is a beautifully crafted piece of work with a pulse that's lower than it should be.

Here's hoping that Jim Jarmusch's vampires ("Only Lovers Left Behind") and Roman Polanski's mind games ("Venus in Fur") finish off the competition on a high note.

Tags for all blogs :
Comments or opinions expressed on this blog are those of the individual contributors only, and do not necessarily represent the views of FRANCE 24. The content on this blog is provided on an "as-is" basis. FRANCE 24 is not liable for any damages whatsoever arising out of the content or use of this blog.