Thu, 05/24/2012 - 16:57
Zac Efron and Nicole Kidman light up torrid, unfairly bashed 'Paperboy'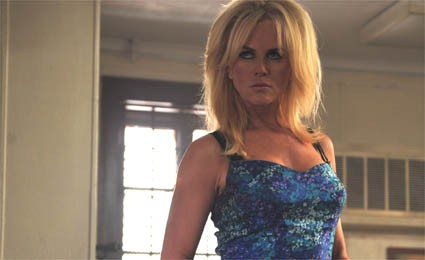 There have been a number of anatomically unusual erotic scenes in competition films this year at Cannes: ear piercing as symbolic deflowering in Wes Anderson's "Moonrise Kingdom"; sex between a woman without legs and a hulk-like pretty boy in Jacques Audiard's "Rust and Bone"; nude orgies involving zaftig middle-aged Austrian women and young African men in Ulrich Seidl's "Paradise: Love"; Denis Lavant munching on handfuls of Eva Mendes's hair in Leos Carax's "Holy Motors".

And lo and behold, US filmmaker Lee Daniels' competition film "The Paperboy" on Thursday offered the spectacle of Nicole Kidman urinating on Zac Efron (I won't spoil the context).

That's just the Cannes programmers' way of saying "good morning", I guess.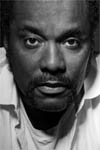 Vivid moments like that one in Daniels' pulpy, sweaty, outrageously entertaining, and smarter-than-it-looks Southern noir left a lot of critics huffing and puffing about how something like "The Paperboy" has no business being at Cannes. I'm not going to wade into the "what makes a film worthy of Cannes?" debate, but people need to lighten up. The African-American, openly gay Daniels (pictured right) is far from the "worst filmmaker of our time", as one critic hyperbolically suggested on Twitter. His previous movie, 2009's "Precious", about an obese black teen and her monstrous mother, was an inconsistently modulated melodrama, but it had heart, guts, and an almost operatic sense of grief and redemption.

"The Paperboy" (adapted from a novel by Pete Dexter) is an entirely more tongue-in-cheek affair, but it displays the same go-for-broke taste for high drama, weighty themes, and extreme situations. Daniels uses the story of two Florida brothers (Efron and Matthew McConaughey) and a white-trash beauty (Kidman) investigating the case of a suspected murderer on death row (a deliciously hammy John Cusack, sporting a comically bad haircut) as a pretext to revel in sultry Southern atmosphere and sculpted bodies. While he's at it, the director delivers some gripping twists, as well as a few nicely woven insights into race and sexuality in the American South of the 1960s.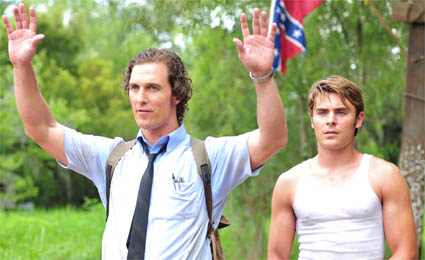 What's gratifying about the film is that it actually adds up to something better than the sum of its alluring parts. Daniels has conjured a strange brew here: part black comedy, part lurid erotic thriller, part socially-conscious period drama. But "The Paperboy" is one of those rare movies that feels spontaneous and unhindered, sampling from genre conventions, creating its own tone, winking at the audience (with repeated shots of Efron's impeccable torso and Kidman's killer figure), and occasionally urging us to take things a bit more seriously. I, for one, found Daniels' portrayal of race relations – and of the queasy intersection of race and sexuality – at a certain time and place in America more insightful than anything in "The Help". And as a study of characters drowning in their own forbidden desires, the film has a bonkers charm all its own.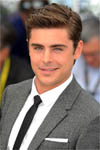 Above all, "The Paperboy" is boosted by performers who sink their teeth into snappily written roles. Kidman is the showstopper here. With a bad fake tan, an even worse blonde wig, garishly skimpy outfits, and an accent that samples every twang from Southern-fried to Australian outback, the actress gives a hungry, hilarious turn. It's her loosest, least fussy work in years. The 24-year-old Efron (left), as the young man who loves her, finally gets the chance to prove that he is more than a pair of pretty blue eyes and a set of rock-hard abs; he rises to the occasion, digging up a note-perfect performance, by turns teasing, heartfelt, and heartbroken. His sexy, offbeat chemistry with Kidman is a (guilty) pleasure to behold.

McConaughey and David Oyelowo, as a black journalist from London who also tags along for the ride, are both terrific as men with secrets up their sleeves, and singer Macy Gray uses her scratchy voice and odd inflections to come up with a fresh spin on the clichéd wise-black-maid role.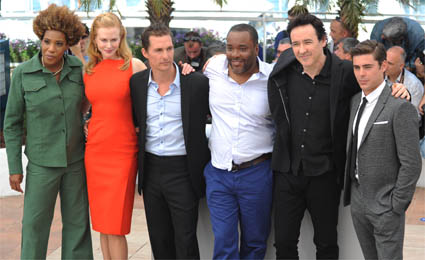 Macy Gray, Nicole Kidman, Matthew McConaughey, Lee Daniels, John Cusack, and Zac Efron at a photo call Thursday. (Photo: Mehdi Chebil)

"The Paperboy" is, at times, choppily edited and clumsily shot, with Daniels not always seeming to be sure where to place his camera or how to choreograph the action. But there's such flair and fearlessness in the storytelling and acting here - and the shifting relationships between the characters are so juicy and unpredictable - that I found myself savoring the film, flaws and all, nearly every step of the way.

As I write this, the director and his cast are being bashed by the press for committing some unforgivable sin of taste. They were booed heartily at the press screening just a few hours ago. They should take no notice. Lurid, touching, and not quite like anything I've ever seen, "The Paperboy" is a treat.

Tags for all blogs :
Comments or opinions expressed on this blog are those of the individual contributors only, and do not necessarily represent the views of FRANCE 24. The content on this blog is provided on an "as-is" basis. FRANCE 24 is not liable for any damages whatsoever arising out of the content or use of this blog.