Thu, 05/23/2013 - 18:04
Abdellatif Kechiche's lesbian romance is a masterpiece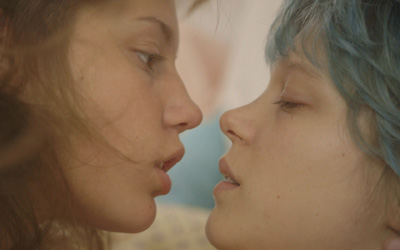 Adèle Exarchopoulos, left, and Léa Seydoux in "La vie d'Adèle" ("Blue is the Warmest Color")

Rain beat down (again!) on the press queuing outside for an evening screening of Abdellatif Kechiche's "La vie d'Adèle" ("Blue is the Warmest Color") Wednesday at Cannes, while poker-faced security guards stared at us from their dry, awning-covered perch at the top of the steps.

"This better be good," I griped to a colleague, as critics booed and hissed in a vain attempt to shame the gatekeepers into letting us in.

But by the time the three-hour film was underway, with more than 2,000 damp journalists sitting in rapt silence, all was forgiven and forgotten.

In what has been a strong competition (with works from the Coen brothers, Jia Zhangke, and François Ozon among standouts), "Blue is the Warmest Color" all but towers above the rest: based on a graphic novel by Julie Maroh about a teenage girl who falls in love with a slightly older woman, it's a shattering masterpiece about sexual awakening, heartbreak, and self-discovery.

Kechiche and his leading ladies soar

The French-Tunisian Kechiche stumbled with his last film, "Black Venus", never finding a convincing way into very tricky material (the true story of an African woman brought to Europe to be displayed as a freak-show attraction). But before that, he made two of the best French films in recent memory, "Games of Love & Chance" and "The Secret of the Grain", both vibrant, novelistic examinations of a multi-ethnic France too rarely brought to the big screen.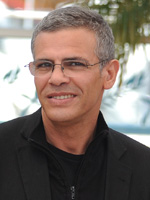 His brilliantly acted, intensely erotic new film is his greatest achievement yet, the director (right) so fully enveloping the viewer in his protagonist's world, mind, and emotions that I stumbled out of the screening dizzy, exhilarated and shaken.

"Blue is the Warmest Color" covers six years in the life of Adèle (Adèle Exarchopoulos, little known now, but not for long), who, at the film's start is a quiet 17-year-old high schooler living with her middle-class parents outside the northern French city of Lille. The story's catalyst comes in the alluring, blue-haired form of Emma (Léa Seydoux, whose star has now officially risen), a lesbian graduate student and artist from a loving, bourgeois-bohemian family.
The film serves as confirmation that Kechiche, with his interest in people living on the margins of modern France (North African immigrants and their children, inner city youth, and, here, gays, lesbians, and bisexuals), is French cinema's greatest observer of human behaviour -- and of French society in all its complexities and contradictions.

Indeed, "Blue is the Warmest Color" is both a meticulous portrait of an individual and a broader study of the ways socioeconomic differences come to bear on that individual's romantic life. With the most subtle of outsider's perspectives (Kechiche moved to France from Tunisia as a six-year-old) and the lightest of touches, the director shows us how class dynamics become a sneakily toxic force in the relationship between Adèle and Emma; two masterfully staged family dinner scenes capture the dissimilar milieus these young women come from, foreshadowing feelings of frustration, alienation, and inadequacy that will eventually haunt their life together.
Kechiche also proves once and for all that realism (the default stylistic mode of European art cinema) does not have to be austere or punishing; his film is warm and sensually alive, the camera sticking close to the actors' faces and bodies without fetishising them, and alternating objective and subjective points of view with fluidity and control. You get so caught up in the fly-on-the-wall thrill of seeing these characters in their everyday lives that it's easy to forget the tremendous technical craftsmanship involved.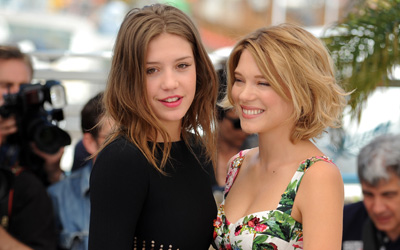 Adèle Exarchopoulos and Léa Seydoux at a photo call Thursday (Photo: Mehdi Chébil)

Anchoring "Blue is the Warmest Color", and then lifting it into the realm of the sublime, are two of the best female performances I've seen in years. The 19-year-old Exarchopoulos, with her full lips and sleepy eyes, initially looks like an ordinary, sullen teen. But when she falls in love, she conveys seismic swells of sadness and yearning without the slightest hint of actress-y histrionics. It's a performance of instinct, intuition, and empathy, rather than technique – and it's a wonder to behold.
Seydoux, meanwhile, has always been a charismatic screen presence, but nothing she's done before prepares us for the force and precision of her work here. Though the actress often plays a somewhat passive object of desire, she saunters into this film as a seductress with a sly smile and darting eyes. In early scenes, Seydoux manages the impressive feat of suggesting someone simultaneously reeling in and falling for the person in front of her. Later, Emma becomes increasingly headstrong and ambitious -- as uncompromising in her personal life as in her professional pursuits -- and when she pulls away from the more modest Adèle, and Adèle responds by acting out, the actresses hit notes of fury and regret that are painful in their authenticity. If the jury is smart, it'll give these two a joint acting prize.
"Blue is the Warmest Color" features long, graphic sex scenes that are crucial in establishing the all-consuming physical passion that is the foundation of the bond between Adèle and Emma (what US distributors will do with all the full-frontal flesh, saliva, spanking and panting is anybody's guess). But though it instantly joins works like Ang Lee's "Brokeback Mountain" on the too-short list of great big-screen same-sex romances, the movie adds up to much more than a lesbian love story; by the time it reaches its quietly devastating, though hopeful, final shot, Kechiche's film has become a map of the human soul.

Payne's lovely, low-key road movie
"Blue is the Warmest Color" is a hard act to follow. Still, US director Alexander Payne's "Nebraska", a black-and-white road movie revolving around a stubborn old man (played by Bruce Dern) and his endlessly patient son (Saturday Night Live veteran Will Forte) made for a nice change of pace Thursday morning. It's far from the director's richest or most interesting work (that would be "Sideways" or "About Schmidt"), but the movie is a pleasure to watch: a melancholic comedy graced with the trademark Payne balance of tenderness and irony.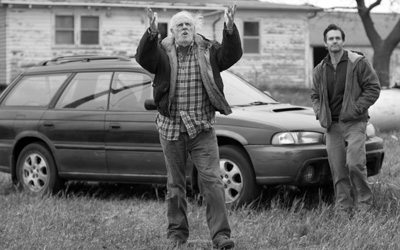 Bruce Dern, left, and Will Forte in "Nebraska"

If "Nebraska" covers familiar thematic and visual ground -- father-son tensions, wide fields dotted with grazing cows, an acoustic guitar soundtrack, small-town Americana tweaked with a sharp but forgiving satirical touch – and is a bit long at nearly two hours, it also feels lived-in (Dern and Forte are wonderful), and strikes gold in June Squibb's scene-stealing turn as Dern's exasperated wife.

With four films still to go in competition, including eagerly awaited works from James Gray and Roman Polanski, one could already draw up a distinguished list of prize winners from the impressive, varied group of movies that screened over the past 8 days.

After a relatively weak edition of Cannes last year, what a joy to feel spoiled this time around.
Tags for all blogs :
Comments or opinions expressed on this blog are those of the individual contributors only, and do not necessarily represent the views of FRANCE 24. The content on this blog is provided on an "as-is" basis. FRANCE 24 is not liable for any damages whatsoever arising out of the content or use of this blog.