Tue, 05/15/2012 - 20:53
Festival director and feminists lock horns as Cannes prepares for take-off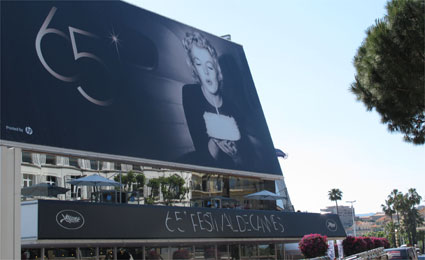 The sky is blue, the sun is shining, and everyone is smiling here in Cannes one day ahead of take-off.

Almost everyone, that is.

An open letter published in French daily Le Monde over the weekend accusing the festival's organizers of sexism has ushered in a bitter controversy, casting a cloud over the party before it's even started. Now, with the world's most prestigious, glamorous, [insert your own superlative] cinema event about to get underway, France's feminists are angry and festival artistic director Thierry Fremaux is on the defensive.

The festival vs. the feminists

"The directors of the 22 films in competition this year are all, by happy coincidence, men," read the strongly worded, witheringly ironic letter in Le Monde, signed by French filmmakers Virginie Despentes, Colline Serreau, and actress Fanny Cottencon. "For the 63rd time in its existence, the festival will crown one of its own, defending without fail the virile values which are the nobility of the seventh art."



The three women went on to note that only once in Cannes history has the top Palme d'Or prize gone to a female director – Jane Campion (left) in 1993 for "The Piano". And in that case, the jury declared a tie, leaving Campion to share the glory with a man - Chen Kaige for "Farewell My Concubine".

Last year, four women were in the main line-up, a record that the letter's authors attributed, with dripping irony, to "a lack of vigilance" on the part of Fremaux and his fellow Cannes organisers.

"This year, gentlemen, you've come to your senses and we are overjoyed," the letter concluded. "The Cannes Film Festival will allow Wes, Jacques, Leos, David, Lee, Andrew, Matteo, Michael, John, Hong, Im, Abbas, Ken, Sergei, Cristian, Yousry, Jeff, Alain, Carlos, Walter, Ulrich and Thomas to show once more that men like depth in women - but only in their cleavage."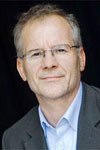 I was able to reach Fremaux (left) by email, and his terse responses suggested a frustration that's a far cry from the warmly raspy voice and affable smile he displays in public appearances. "We evaluate the movies submitted without taking into account whether they're made by a man or a woman, a young director or an old one," he wrote me. "People can stir up controversies as they wish. We're happy with the artistic choices we made."

Fremaux went on to point out that "every time Jane Campion submitted a film, we selected her for competition. Same for [Japanese filmmaker] Naomi Kawase or [Argentinian] Lucrecia Martel."

Rejecting the notion that affirmative action - or "positive discrimination", as the French more skeptically call it - has any place in film festival programming, Fremaux placed the responsibility for the absence of women in competition squarely on the shoulders of the global movie industry at large. "This is a problem for those in charge of world cinema to address – not for the Cannes Film Festival," he wrote. "And it goes beyond cinema; it's up to society to change its vision of women."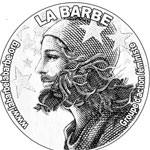 Not everyone's buying that argument. Alix Beranger, a member of a feminist group called "La Barbe" (The Beard) that launched an online petition to protest the festival's omission of women this year, called Fremaux's reasoning "stupid". "It's not because the film industry is sexist that Fremaux is absolved of all responsibility," she told me over the phone. "He has an obligation, as the head of an important international festival, to help things evolve. He could have at least made a statement saying it was unfortunate that no women were selected. He could have called for the industry to finance more women filmmakers. He has a role to play in all of this."

For the love of the stars – and the movies

Despite the pre-festival acrimony, many others on the Croisette have their mind on matters less weighty than politics and gender equality. Some are here, as always, to bask in the sheer energy of the festival – and in the shadow of their favorite actors and actresses.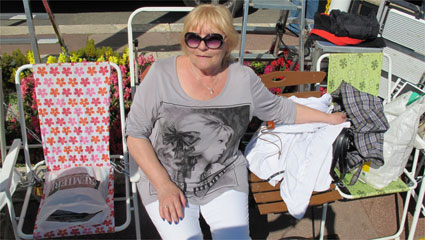 70-year-old Anne-Marie (pictured above), from Marseille, has been coming to Cannes every May for the last two decades. As soon as she arrives, she grabs her fold-out chair and sleeping bag and heads for the narrow strip of concrete across from the red carpet, where she reunites with fellow star-gazers that she has come to consider friends.

"I'm here to soak up a bit of fun and fantasy in this tough life," Anne-Marie told me excitedly. "When the stars come by, we stand up, we scream, we shout. That's what we're here for!"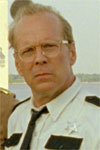 She said she was looking forward to catching a glimpse of Bruce Willis (left) before the gala screening tomorrow of Wes Anderson's festival opener "Moonrise Kingdom", in which the actor has a supporting role. Anne-Marie expects Willis to be gracious and responsive, as most of the stars are. "Usually, it's not the biggest celebrities who ignore us," she confided with a conspiratorial gleam in her eye.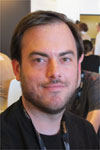 Another festival attendee happy to be here - despite just stumbling off a flight that took him from San Diego to Washington DC to Geneva to Nice – is American film critic Glenn Heath Jr., who is covering the festival for the New York-based L Magazine. He told me he was most looking forward to Andrew Dominik's gangster thriller "Killing Them Softly", starring Brad Pitt (below): "I love genre films, and seeing them get some respect from Cannes is a great thing."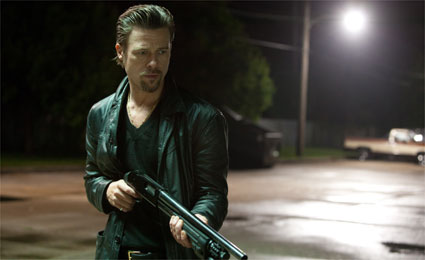 As for the sexism controversy, Glenn explained that he understands the French feminists' reaction, but also feels that Fremaux is not necessarily to blame. "I recognize the need to call attention to the issue, and going from four female directors last year to zero this year is a big jump," he offered. "But I don't think the festival should be hamstrung by some need to fulfil quotas. And I'm convinced the programmers were thinking about putting the very best films in competition."

Spoken like a true Cannes believer.
Tags for all blogs :
Comments or opinions expressed on this blog are those of the individual contributors only, and do not necessarily represent the views of FRANCE 24. The content on this blog is provided on an "as-is" basis. FRANCE 24 is not liable for any damages whatsoever arising out of the content or use of this blog.