Sat, 05/25/2013 - 17:54
Vampires, Polanski, and Palme d'Or predictions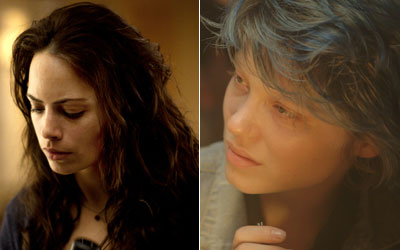 Asghar Farhadi's "The Past" (left) and Abdellatif Kechiche's "La vie d'Adèle" ("Blue is the Warmest Color") are among frontrunners for the Palme d'Or.


The competition is over, and the countdown to the Palme d'Or – to be announced Sunday night – has begun.

The last films to screen, Jim Jarmusch's deadpan vampire romance "Only Lovers Left Alive" and Roman Polanski's French-language adaptation of David Ives' play "Venus in Fur" (itself inspired by an Austrian novella by Leopold von Sacher-Masoch), reflected the strong French-American flavour of this year's line-up.

But though both were warmly received, neither was enough of a knockout to make it a frontrunner for world cinema's most coveted prize.

"Only Lovers Left Alive" finds Jarmusch indulging in a lot of repetitive hipster-geek dialogue, which stretches the often droll, visually ravishing film to a two-hour running time (90 minutes would have sufficed); I found myself longing for the minimalist screenplays of some of the director's earlier stuff ("Stranger than Paradise", "Mystery Train") and the emotional directness of his last film at Cannes, the lovely "Broken Flowers" (2005).
Still, it's fun, and occasionally quite touching, to watch Tilda Swinton and Tom Hiddleston play old-school bloodsuckers in love, clinging to each other through the centuries as they watch the world change with weary bemusement.
Polanski's energetic "Venus in Fur" featured another entertaining duo: French actor Mathieu Amalric (who also starred in Arnaud Desplechin's competition entry "Jimmy P.: Psychotherapy of a Plains Indian") as a stage director and Polanski's wife, Emmanuelle Seigner, as an actress hungry for the lead role in his play.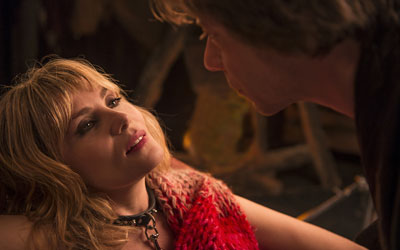 Emmanuelle Seigner and Mathieu Amalric in Roman Polanski's "Venus in Fur"

Even more than his previous film "Carnage", this movie is, unabashedly, a "filmed play" (as one critic tweeted after the screening, "Ready to see Polanski go outside again"), with all the limitations that implies. And in the opening scene, the two stars dive into their parts with a bit too much self-conscious theatricality. But the source material here is richer and more provocative than in "Carnage", and as the dynamics between the characters begin to shift, Amalric and Seigner respond with fierce, fully committed performances.

Palme d'Or fever!

Whether those performances will be rewarded with prizes at tomorrow night's anxiously awaited closing ceremony is anyone's guess. The jury is now in full closed-door deliberation mode, and with Steven Spielberg at the head of the table, speculation about the movies and people to be singled out for recognition has been particularly fervent this year.

That said, no one seems very confident in their predictions. The critical favourites are undeniably – and understandably -- Abdellatif Kechiche's wrenching and tender naturalistic masterwork "La Vie d'Adèle" ("Blue is the Warmest Color") and the Coen brothers' supremely witty, achingly sad folk-music comedy "Inside Llewyn Davis".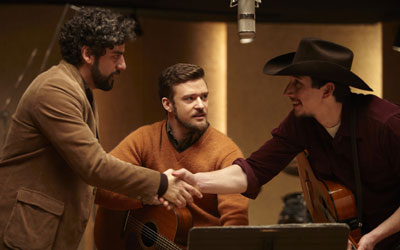 Oscar Isaac, Justin Timberlake, and Adam Driver in the Coen brothers' "Inside Llewyn Davis"

Some have wondered if Kechiche's film, with its three-hour running time and lengthy, very graphic lesbian sex scenes may be a bit "edgy" for a jury led by a mainstream director whose work is often infused with child-like wonder. But I'm willing to bet that at least two of the filmmakers on the jury, Cristian Mungiu (who explored powerful female bonds in his Cannes prize-winners "4 Months, 3 Weeks and 2 Days" and "Beyond the Hills") and Ang Lee (whose "Brokeback Mountain" is the other major, epic -- though very different -- big-screen same-sex romance), will fight for it.

Other titles floated by prognosticators as potential Palme d'Or winners include: Asghar Farhadi's powerfully directed and acted, though not always convincing, melodrama "The Past"; James Gray's solid, though slightly underwhelming period piece "The Immigrant" (rumour has it that Spielberg remained rapt until the end of the closing credits); Steven Soderbergh's "Behind the Candelabra", a nimble, poignantly told love story between Liberace and a younger stud; Kore-eda Hirokazu's too-sweet child-swap drama "Like Father, Like Son" (which, according to one of my sources, brought juror Nicole Kidman to tears); and Paolo Sorrentino's "La Grande Bellezza" (which I missed, but will be catching tomorrow), a Fellini-influenced dramedy that many think will delight film buff Spielberg.

There are also second- and third-place prizes (called, respectively, the Grand Prize and the Jury Prize), as well as directing and screenwriting awards.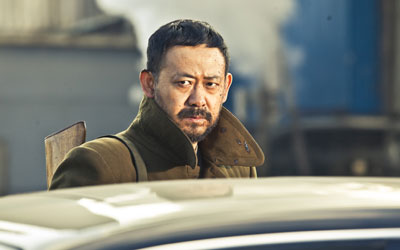 A scene from Jia Zhangke's "A Touch of Sin"

Two of the finest films in competition this year have been mostly missing from the forecasts: Jia Zhangke's magisterial four-part "A Touch of Sin", which examines violence, poverty, and corruption in China with vivid imagery and barely contained rage; and François Ozon's "Jeune et jolie" ("Young and Pretty"), a witty, deeply sensitive portrait of a teenage beauty who slips rather mysteriously into a secret life of prostitution.

French actresses, American actors, and my picks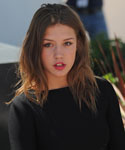 In terms of performances, this was decidedly the year of French actresses and American actors -- perhaps logically, given the dominance of French and US cinema in the line-up. Among the ladies, Marine Vacth (Ozon's leading lady), Bérénice Bejo as the harried anti-heroine of "The Past", Marion Cotillard as the saintly, but strong title character in "The Immigrant", and especially Adèle Exarchopoulos (pictured right) and Léa Seydoux as the literally and emotionally naked lovers of "La vie d'Adèle" ("Blue is the Warmest Color") gave vivid, prize-worthy turns.

As for the gents, Oscar Isaac, alternately selfish and soulful as the starving artist in "Inside Llewyn Davis", Bruce Dern as the stubborn, aging father in Alexander Payne's "Nebraska", and particularly Michael Douglas and Matt Damon, moving from seduction to affection to battle as Liberace and boyfriend Scott Thorson, could all be strong contenders for Best Actor.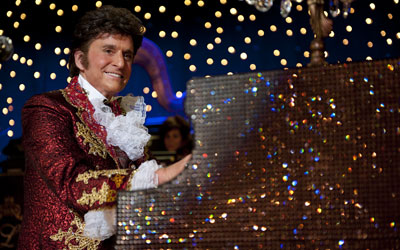 Michael Douglas in Steven Soderbergh's "Behind the Candelabra"

In my view, a handful of films and performances stood above the rest at this edition of Cannes. And since two prizes can be given to a single film, if I were a one-man jury I would give: the Palme d'Or to "La vie d'Adèle" ("Blue is the Warmest Color") and a joint Best Actress prize to its two leading ladies; a joint Best Actor prize to "Behind the Candelabra"'s Douglas and Damon; the second-place Grand Prize and the Best Screenplay award to the Coens' "Inside Llewyn Davis"; the third-place Jury Prize to Jia Zhangke and his "A Touch of Sin" and Best Director to François Ozon for "Jeune et jolie" ("Young and Pretty"), or vice versa.
We'll know tomorrow night starting at 7pm whether the jury agrees with me.
Tags for all blogs :
Comments or opinions expressed on this blog are those of the individual contributors only, and do not necessarily represent the views of FRANCE 24. The content on this blog is provided on an "as-is" basis. FRANCE 24 is not liable for any damages whatsoever arising out of the content or use of this blog.