Mon, 04/18/2011 - 20:09
Cannes official selection: Reading between the lines
The Cannes Film Festival – the biggest, most prestigious, pretentious, glamour-soaked and, for movie buffs, enticing cinema event of the year – is less than a month away. In other words, it's time to start obsessing over the works vying for that madly coveted Palme d'Or prize, as well as all the latest info, advance buzz, and mini controversies that will be surfacing in the next few weeks.

Last year was disappointing: a sputtering global economy, an ash cloud hovering over Europe, few recognisable stars strutting up those famed red-carpeted steps, and, most crucially, a mediocre bunch of films in competition made for an anti-climactic festival.

But hopes are high for 2011, especially since the official competition selection announced last week looks promising. Here are some initial observations, gripes, and pleasant surprises: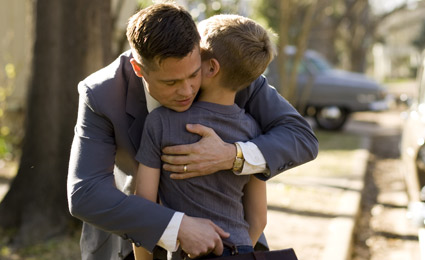 Brad Pitt in Terrence Malick's "The Tree of Life".
Photo Credit: Merie Wallace © Cottonwood Pictures LLC.

1) Pedro, Lars, and the Dardennes renew their membership: If you have the feeling Spanish auteur Pedro Almodovar, Danish provocateur Lars von Trier, and Belgian brothers Luc and Jean-Pierre Dardenne are selected for Cannes competition every time they make a movie, you're pretty much right. I, perhaps like you, am tempted to grumble, or even yawn. But Almodovar's latest, "The Skin that I Inhabit," sounds juicy: a tale of a plastic surgeon seeking revenge for his daughter's rape, it stars Antonio Banderas and has been described by the writer-director as "very different" from the rest of his stuff.

Lars von Trier was at Cannes two years ago with "Antichrist", which featured lots of genital mutilation and somehow convinced those who weren't sprinting for the exit or drooling from boredom that it was brilliant. Now he's back with "Melancholia", which stars Kirsten Dunst and Charlotte Gainsbourg, has an intriguing, dreamy-looking trailer, and is described as "a beautiful movie about the end of the world". It looks like it could be less of a chore to sit through, though one never knows with von Trier.

As for the Dardennes, who already have two Palmes under their belt, will their "The Kid with the Bike" breathe new life into their formally rigorous, but slightly tired-feeling brand of European neo-realism?

2) Terrence Malick, and only Terrence Malick: For the second year in a row, there is only one American director in the main competition. Given the prevalence of American cinema around the world, this seems like a possibly political decision on the part of the Cannes selection committee and might be mildly objectionable….except the one US filmmaker they selected is the toweringly great Terrence Malick. So all is forgiven. "The Tree of Life", only Malick's fifth film, stars Brad Pitt and Sean Penn in a drama that spans decades and allegedly has a scene featuring dinosaurs. The trailer displays the lyrical sweep and moody voiceovers for which Malick is known and, by many, loved. If we were to indulge in the absurd notion of a frontrunner at this stage, "The Tree of Life" could be it – which probably means it won't win.


3) Weird French selection: Rather than the heavyweights and hotshots who have represented France in competition in recent years (Tavernier, Resnais, Desplechin, Honoré), this year's lineup is marked by a strikingly offbeat French presence: Romanian-born Radu Mihaileanu, whose two latest films were mainstream crowdpleasers that sharply divided critics; and a trio of more experimental filmmakers – Maiwenn, Bertrand Bonello, and old-timer Alain Cavalier – who are barely known at home, let alone abroad. Complaints about the French hogging competition space can, for now, be offset by the fact that the movies look potentially interesting: Maiwenn's "Polisse" is about cops, Bonello's "L'Apollinide" is about prostitutes, Mihaileanu's "The Source" is about Arab women who decide to deprive their husbands of sex, and Cavalier's "Pater" is too difficult to describe.

4) A Eurocentric lineup, with room for women and new names: There are no South American or African entries in the main competition, and only two Asian films – both from Japan. Fourteen out of 19 of the films announced are European – an even higher proportion than usual. If we ignore that lack of geographic diversity, we can applaud the inclusion of four women competing for the top prize this year (as opposed to zero last year): aside from France's Maiwenn, there is Japan's Naomi Kawase; Australian Julia Leigh, whose début "Sleeping Beauty" has been described as an erotic interpretation of the fairytale; and Scotland's Lynne Ramsay, whose "We Need to Talk About Kevin" is adapted from a novel about a teenage murderer's mother (played by Tilda Swinton).

There is also a fair amount of fresh blood: in addition to Julia Leigh, Austrian Markus Schleinzer will see his first film screened in competition, and Ramsay, Milhaieanu, and Maiwenn (all mentioned above), as well as Israeli Joseph Cedar and Danish Nicolas Winding Refn, are all brand new to the Cannes game.

Tags for all blogs :
Comments or opinions expressed on this blog are those of the individual contributors only, and do not necessarily represent the views of FRANCE 24. The content on this blog is provided on an "as-is" basis. FRANCE 24 is not liable for any damages whatsoever arising out of the content or use of this blog.