Tue, 04/26/2011 - 09:51
Woody, the Sarkozys, and other notables outside the main Cannes line-up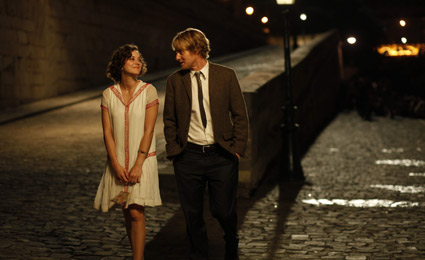 Marion Cotillard and Owen Wilson in Woody Allen's "Midnight in Paris".
Cannes is sixteen days away, and we've already parsed the main competition. But what jumps out among the films outside the central line-up? There's little information available, which is a good thing – in the age of online buzz and YouTube clips, it's dismayingly rare to see a movie without prior familiarity with the story, the stars, and even some of the dialogue.

That said, let's indulge for now. Here's a breakdown of some of the most attention-grabbing films outside the big contest.

Woody Allen's "Midnight in Paris" will open the festival. Allen has been trying to shoot in Paris for years, and there's reason to look forward to the film. Woody in London gave us the cynical snap and thriller-like rhythms of "Match Point"; sun-dappled Barcelona inspired the frisky, frothy sex comedy "Vicky Cristina Barcelona". And the Paris section of Allen's 1996 musical "Everyone Says I Love You" has Woody and Goldie Hawn dancing through the air along the Seine -- one of his most unabashedly romantic sequences.

"Midnight in Paris" is about an American family visiting the City of Lights, and the cast mixes appealing US performers – Owen Wilson, Rachel McAdams, Adrien Brody – with French stars Marion Cotillard and Gad Elmaleh, up-and-comer Léa Seydoux and, bizarrely, French First Lady Carla Bruni-Sarkozy (who, according to rumors in the French press, needed 30 takes to nail one scene).

The trailer features ravishing shots of a summery Paris, and the surfer-ish Owen Wilson makes an intriguingly weird Woody surrogate. The story looks like it turns on Wilson's late-night strolls, during which he conjures an imaginary Paris (of another era, if Marion Cotillard's flapper outfit is an indication).

The French are grumbling about the clichés on display: accordion music, Eiffel Tower shots, etc…. I say so what? It's about Americans in Paris, and Americans tend to see the city through the prism of those very clichés. Plus, many of the clichés are true – the sight of someone wearing a horizontal-striped shirt (but alas, no beret) and carrying a baguette while a cigarette dangles from his/her lips is not infrequent here.

But if this is a case of the preview giving away the best lines, we're in trouble; there's scarcely a chuckle in the teaser, and some of the dialogue sounds downright stale. I'm still hoping that "Midnight in Paris" is sharper than Allen's last offering – the mostly uninteresting "You Will Meet a Tall Dark Stranger".
The other buzzed-about out-of-competition film also has a Sarkozy in it, though its a character, not an actor: Xavier Durringer's "The Conquest", about French President Nicolas Sarkozy's 2007 campaign. The director has a background in TV, which leads one to fear something sub-par (this is French TV – not exactly the stuff of "The Wire", or "Sex and the City" for that matter).

But it's the first movie about a French president to be filmed and released during his term in office. And if nothing else, the preview suggests an irreverent behind-the-scenes look at a controversial politician (played by Denis Podalydès, who doesn't look like "Sarko" but has the mannerisms down), his path to power, and his crumbling marriage (to pre-Carla wife Cecilia).

There's also some juicy-sounding dialogue, as when the president-to-be snarls: "Don't forget, I'm a Ferrari! You open the hood with white gloves on!" I don't think Carla will walk the red carpet for this one.
The opening film of the Un Certain Regard section (which features works of "original vision" from around the world) is "Restless" by Gus Van Sant – who is accustomed to being picked for the main competition. The film's trailer possibly suggests why it's not there this time: a teen romance between a terminally ill girl (Mia Wasikowska, lovely in "The Kids are All Right" after struggling to carry Tim Burton's bland "Alice in Wonderland") and a funeral-hopping boy who is friends with a Japanese ghost, "Restless" looks like one of Van Sant's "mainstream", non-experimental efforts (more "Good Will Hunting" than "Last Days"). Cannes prefers "arty" and "bold" to traditional storytelling for the main competition.

"Restless" sounds a bit precious, but Van Sant is a fascinating, idiosyncratic filmmaker – check out "Drugstore Cowboy", "My Own Private Idaho", "Gerry", "Elephant", "Paranoid Park", and the more conventional but very good "To Die For" and "Milk". So let's hope the filmmaker's talent for precise, evocative images and his sensitivity with young characters and actors make it work.
The "Director's Fortnight" section, which showcases 20 feature films from around the world, has a French heavyweight onboard this year: André Téchiné's "Impardonnables" is about a writer's relationship with a woman and her daughter. Téchiné is often great – he made a masterpiece about adolescence, "Wild Reeds", and another about a woman's relationship with her brother, "My Favorite Season" – and sometimes not so great (skip his last film, "The Girl on the Train"). But he's one of the most accomplished living French directors, so this is one to watch.

Comments or opinions expressed on this blog are those of the individual contributors only, and do not necessarily represent the views of FRANCE 24. The content on this blog is provided on an "as-is" basis. FRANCE 24 is not liable for any damages whatsoever arising out of the content or use of this blog.