Thu, 05/05/2011 - 15:00
Silent French film 'The Artist' a late addition to Cannes competition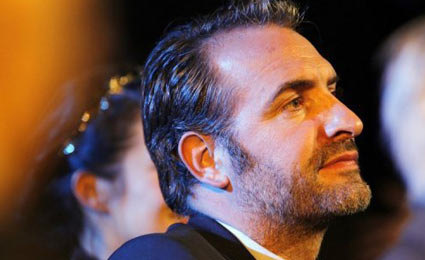 Jean Dujardin, one of the stars of "The Artist".

Another film, Michel Hazanavicius's "The Artist", has been added to the main competition line-up. It's French – meaning France's entries now make up exactly one quarter of the competition (five out of 20, with another one, Kaurismaki's "Le Havre", set in France and at least partly in French).

That said, the film sounds unusual. It's been described as a silent black-and-white period piece about the rise of a young actress and simultaneous fall from grace of a silent movie star around the time that "talking pictures" started being made. The international cast features French comic Jean Dujardin, as well French actress Bérénice Bejo, British actor James Cromwell (of "Babe" and "LA Confidential"), and American actors John Goodman (of beloved TV sitcom "Roseanne") and Missi Pyle.

Director Hazanavicius is best known here in France for his popular, pretty funny spy flick spoofs "OSS 117: Cairo, Nest of Spies" and "OSS 117: Lost in Rio", both also starring Dujardin.

"The Artist" was originally slated to show out of competition.

Another French film, Christophe Honoré's "The Beloved", has been chosen to close the festival (out of competition). Honoré is a highly acclaimed auteur in France, though his undeniable stylistic verve is not always matched by compelling, or even coherent, storytelling. His work can be bracingly spontaneous and quite moving ("Dans Paris", about two very different brothers, and the lovely, melancholy musical "Love Songs") or pretentious-verging-on-unwatchable ("My Mother", "La Belle Personne", "Making Plans for Lena", "Man at Bath").

His new film boasts a typically hip, starry cast – Catherine Deneuve, Ludivine Sagnier, Chiara Mastroianni, Louis Garrel – and has been described by Cannes organisers as taking place over various periods and in various places: Prague in the '60s, London in the '80s, "the world of Sept. 11" and Paris today.

Clip below in French.

The movie will screen on the festival's final night, after the prizes have been distributed, but it certainly sounds intriguing enough to warrant powering through the intense fatigue that grips most festival-goers at the end of Cannes.



Tags for all blogs :
Comments or opinions expressed on this blog are those of the individual contributors only, and do not necessarily represent the views of FRANCE 24. The content on this blog is provided on an "as-is" basis. FRANCE 24 is not liable for any damages whatsoever arising out of the content or use of this blog.