Thu, 05/12/2011 - 19:12
Good mood prevails, even as Anglos compete with bleak tales of sex and death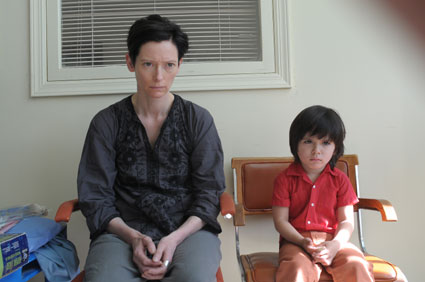 A scene from Lynn Ramsay's "We Need to Talk About Kevin".
There's a festive atmosphere at Cannes this year: organisers are high-fiving because attendance is up; the press is in a jolly mood because the line-up looks good; fans are grinning because the stars are working the red carpet hard; and pop culture addicts are tripping over themselves because Lady Gaga is somewhere in the vicinity (possibly wearing another dress made of meat). On top of all that, Woody Allen's "Midnight in Paris" put a spring in most people's step.

Look, even the poker-face security guys checking press badges below are getting into the Cannes spirit. Yep, that's them smiling.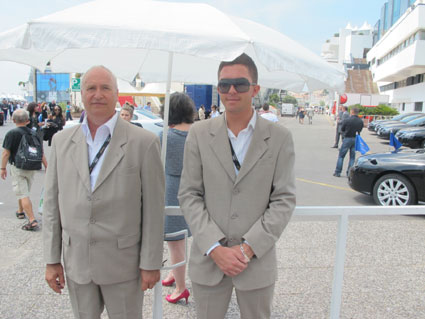 But leave it to the first day of competition to sober things up a bit, at least inside the screening rooms. Thursday brought a pair of Anglophone filmmakers to the Croisette to kick off the main line-up, and it was an extremely downbeat one-two punch of sex and death. Australian novelist Julia Leigh's disappointing first film, "Sleeping Beauty", was billed as an erotic interpretation of the fairy tale, though the most interesting thing about it is that it is, in fact, rigorously anti-erotic.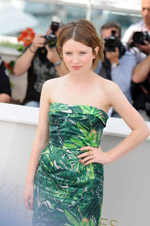 The premise is a university student (Emily Browning) who takes a job as a call girl, but is put to sleep before clients have their way with her – so when she awakes, she remembers nothing. Leigh crafts glacially elegant images, relying on silence, stillness, and geometrically precise compositions to evoke a mood of dread and suggest the girl's emotional numbness and lack of freedom – at least I think that's what she's doing. The problem is all the coolness and symmetry, when coupled with little context for what happens onscreen, make for a needlessly alienating viewing experience.

Leigh's refusal to use overly explicit psychological motives to explain her character's behaviour is wise. But the combination of an outrageous tale, bare-bones storytelling, and a clinical, detached visual approach results in a movie that's mostly asinine and incoherent, rather than mysterious. I left the theatre wishing I, too, could get my hands on one of those magic pills to make me forget the last hour and forty minutes.

I even told the cheerful woman pictured below, a non-accredited cinephile hoping to score an invitation to one of the screenings, that she should try for a different movie.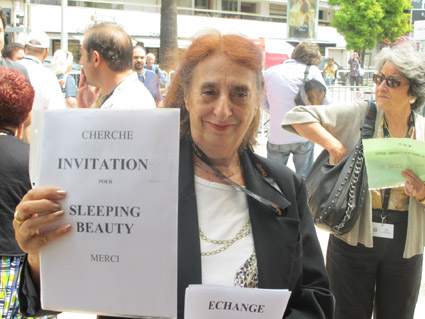 Much better, though still deeply flawed, was "We Need to Talk About Kevin", an unsettling drama strongly directed by the Scottish Lynne Ramsay (who made the superior "Morvern Callar" almost a decade ago) and adopted from a novel. The film stars that great, grave, pale, beautiful freak of an actress, Tilda Swinton, as an American mother reeling after her teenage son (Ezra Miller) commits a Columbine-style mass murder.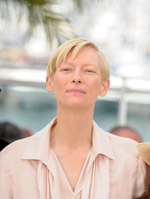 The movie flashes between present, as the mother stumbles through days punctuated by insults (and punches) thrown by parents of her son's victims, and past, in which she's raising a kid who's clearly a budding psychopath. The first half has a dazzling, almost hallucinatory power; Ramsay's eye for detail, both visual and auditory, is exquisite, and she uses colour patterns (an oppressive recurrence of blood red) and a variety of camera angles to pull us in close to a woman faced with the terror, disgust, and guilt of realising she doesn't love her own child.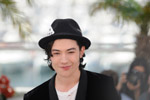 Disappointingly, after the halfway mark, the film settles into something more conventional: a domestic horror film – albeit a beautifully directed one -- in which a mother is increasingly disturbed by her son's sinister behaviour.

There are developments – a pet that goes mysteriously AWOL, an accident that results in a younger sibling losing her eye – that feel overly familiar, and Ramsay spends too much time charting the boy's rather predictable evolution into a full-fledged adolescent monster. The film is engrossing, sometimes darkly funny, stimulating to look at, and forcefully acted by Swinton in a tricky role. But the longer I watched it, the more bothered I was by a creeping impression that Ramsay's artful, razor-sharp direction was essentially dressing up a finally rather banal, TV-movie-ish story.

Tags for all blogs :
Comments or opinions expressed on this blog are those of the individual contributors only, and do not necessarily represent the views of FRANCE 24. The content on this blog is provided on an "as-is" basis. FRANCE 24 is not liable for any damages whatsoever arising out of the content or use of this blog.