Sat, 05/14/2011 - 00:57
Long lines, lack of vitamins, and a loud French film
Cannes fatigue usually sets in during the final days of the festival, when adrenaline is running low, eyes are blurry from watching so many movies, hands cramp up from all the rapid typing, and the sight of yet another panini turns your vitamin-deprived, coffee-ravaged stomach.

This year, I've heard several journalists on the Croisette complaining about early-onset Cannes fatigue: the kind that hits in the first few days, as your body takes time adjusting to the marathon rhythm of covering a jam-packed, hyperactive, two-week international festival.

Aside from lack of sleep, there are two obvious causes of this problem. One is too many on-the-go meals from stands like this one pictured below, where journalists and the less glamorous industry professionals flock to fill up on pizza, burgers, ice cream, and other filling, but rather un-French fare.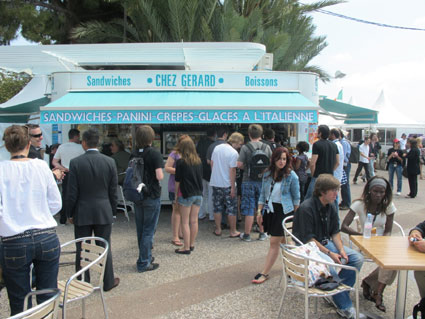 I'm currently addicted to the face-sized glazed donuts filled with nutella, but they're not exactly brimming with energising nutrients.

The second draining thing here is waiting outside in the sun before press screenings. Cannes organisers try to keep things orderly – and degradingly hierarchical -- by separating journalists into different lines according to the colour of their badge: pink is best, and is awarded mainly to TV reporters and writers from top national papers and big-name culture magazines; on the other end of the spectrum, those with yellow badges need to arrive at least an hour before showtime to have a sure shot of getting in.

Below is what it looks like 45 minutes ahead of when the movie starts. Imagine the scene just before they let people in.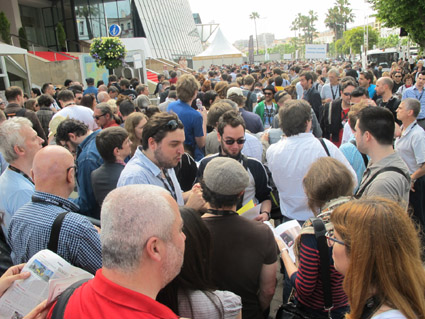 As any American who has lived in Europe can tell you, line etiquette is not on the list of positive Old World attributes. Cutting, pushing, dirty looks…it's anything goes here.

So greasy, un-nourishing food and constant waiting under a hot sun make journalists sleepy. I myself already took a lengthy nap during the bluntly titled Israeli film "The Slut", screened in the Critics' Week selection (a parallel section of movies picked by a panel of French film critics). And this morning, I dozed off during Nanni Moretti's crowd-pleasing pope comedy "Habemus Papam".

One film it would be hard for anyone to sleep through was the first French film screened in competition: Maiwenn's "Polisse", which features enough shouting and hysterically pitched tirades to wake up Rip Van Winkle.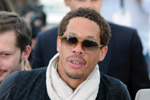 A wildly uneven, overlong, frustrating, but often riveting and endearing chronicle about a team of cops working in Paris's Child Protection Unit, "Polisse" is one of those movies that had me changing my mind about it every fifteen minutes.

Many of the workplace sequences, in which the various members of the close-knit team (played by a starry French cast including Karin Viard, Marina Fois, Nicolas Duvauchelle, and rapper Joeystarr, pictured above left, in a very charismatic performance) grill pedophiles and child abusers, are powerfully written and staged. And the film, which has a winningly shaggy, freewheeling quality to it, finds humour amid the grimness; there's a hilarious scene in which the officers try unsuccessfully to keep a straight face while interviewing a teenage girl who performed sexual favours to get back her stolen phone.

But the film is also frequently indulgent and melodramatic, especially when it deals, rather tritely, with the messy personal lives of the officers. Maiwenn, who unveiled an unabashed narcissism in her mildly diverting previous film, "Le bal des actrices", almost ruins "Polisse" entirely by giving herself a useless role as a photographer tagging along with the team on assignment. Her romance with Joeystarr's character is a squirm-inducing distraction.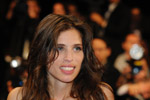 Maiwenn's lack of discipline as a director is also evident in the film's 128-minute running time – the movie gets longer without getting deeper – and in her failure to rein in some of her performers; Karin Viard's scenery chewing as the least stable officer brings the film crashing down more than once.

The handheld camerawork, naturalistic dialogue, and general documentary feel are reminiscent of Laurent Cantet's 2008 Cannes winner "The Class" and Abdellatif Kechiche's "The Secret of the Grain" or "Games of Love and Chance". But those films had a maturity and emotional grit that Maiwenn isn't yet close to approaching.

Still, if she hasn't yet figured out how to put all her passion and energy to purposeful use, at least she has those qualities. "Polisse" is a film that alternately dazzles and disappoints. But it won't put you to sleep.

Tags for all blogs :
Comments or opinions expressed on this blog are those of the individual contributors only, and do not necessarily represent the views of FRANCE 24. The content on this blog is provided on an "as-is" basis. FRANCE 24 is not liable for any damages whatsoever arising out of the content or use of this blog.