Mon, 05/16/2011 - 19:40
Competition picks up steam with Malick's beautiful, booed 'Tree of Life'
Cannes is the most unapologetically elitist, exclusive film festival – those without accreditation or invitation are literally reduced to begging in the street in hopes of getting into a screening.

One mural prominently placed near our office (pictured below) -- featuring one of jury president Robert De Niro's famous characters, Travis Bickle of "Taxi Driver" -- displays the rather pointed statement "real art is in the street FOR ALL PEOPLE".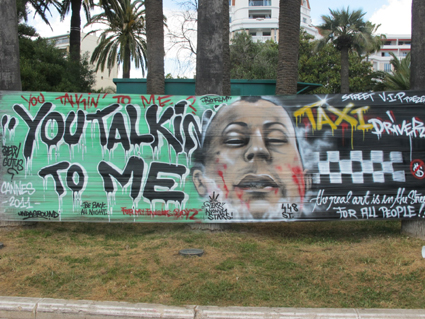 Amen. But, er, perhaps not in this town.

The public's frustration at being shut out of movies being shown here has been particularly palpable in the past few days, when hordes of tourists, cinephiles, and film students from near and far have crowded the festival searching for a way in.

They may not have been interested in the latest French entry in competition, Bertrand Bonello's languidly shot "L'Apollonide", which chronicles an early 20th century Parisian brothel and its prostitutes with almost journalistic detail and a good deal of compassion. But they certainly showed up to try and get into Michel Hazanavicius' "The Artist"(headlined by beloved French star Jean Dujardin), a charming, spirited black-and white silent film that struggles to transcend its "exercise/experiment" feel.

Most of all, though, the people (including a large proportion of hyperventilating Brad Pitt fans) – and the press, who began lining up at 7 am this morning – were waiting for Terrence Malick's "The Tree of Life".

It's only the famously reclusive filmmaker's fifth film, but he's unique in American cinema: a director who brings dreamy lyricism and an emphasis on imagery of the natural world to the kind of strongly American-flavoured material that would more typically be handled through reliance on plot and dialogue.

Like many great filmmakers, Malick has detractors – those who find his stuff pompous and ponderous. I imagine those were the people who booed obnoxiously at the end of the press screening (listen below), because I can't figure out why anyone who likes Malick's other films would hate this one enough to sneer outloud.
"The Tree of Life" is an almost outrageously ambitious, shatteringly beautiful meditation on memory, childhood, loss, and figuring out one's place in the world – as well as a few other gigantic themes that Malick fearlessly sinks his teeth into with a visionary's confidence.

Most of what we see takes place in 1950s Texas, where young Jack (an extraordinary debut by Hunter McCracken) lives with two little brothers, a sweet-natured mother he adores (Jessica Chastain in a moving breakthrough performance) and a disciplinarian father he grows to loathe (Brad Pitt, blending menace and neediness in the best work of his uneven career).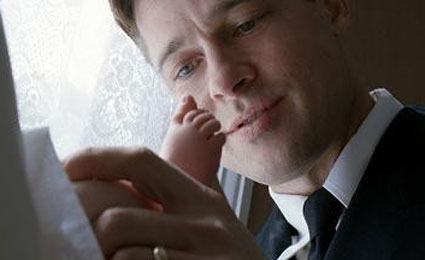 Other scenes show the boy as a morose-looking adult (Sean Penn) remembering what we see in the 1950s sections, which unfold with a flowing, stream-of consciousness momentum. Malick uses dramatic angles (often filming his actors from below), heightened background noise, and layers of classical music and voiceover to give the images the uncanny texture and tone of memories. His camera follows the brothers as they scamper outside, and swirls around them and between them as they interact with each other, with nature, and with their parents. He captures with astonishingly tactile and emotional immediacy the wonder, terror, and anger of being young and trying to reconcile clashing parental influences.

In another stretch, Malick shows the origins of the earth – cells reproducing, volcanoes overflowing, dinosaurs roaming. It's a crazy, mesmerising, mystifying bit of filmmaking that starts to make sense the more you think about the film's central character, who tries, both as a child and adult, to understand how his family fits into the larger universe around him.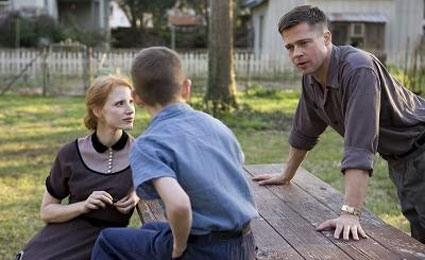 I'm willing to follow Malick almost anywhere -- except, perhaps, where he takes us in the last 10 minutes of "The Tree of Life". Still, the film's cumulative impact is so overpowering, and the experience of watching it so exhilarating for the senses, that I'm willing to give it a second chance.

Malick doesn't make perfect films – who does? But "The Tree of Life" is further evidence that no director today matches technical virtuosity with deep feeling as boldly and richly as he does. Love them or hate them, Terrence Malick's movies are thrillingly alive.
Tags for all blogs :
Comments or opinions expressed on this blog are those of the individual contributors only, and do not necessarily represent the views of FRANCE 24. The content on this blog is provided on an "as-is" basis. FRANCE 24 is not liable for any damages whatsoever arising out of the content or use of this blog.