Fri, 05/17/2013 - 17:57
Asian auteurs Farhadi, Jia explore emotional and physical violence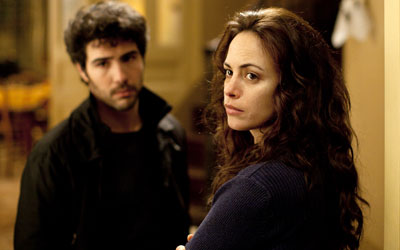 Tahar Rahim and Bérénice Bejo in Asghar Farhadi's "The Past"

After two days of pouring rain, the sky in Cannes is blue again–and that seems to be making all the difference.

Indeed, everyone seemed chipper on Friday, rushing outside for coffee breaks and cigarettes before rushing back inside again for screenings, deadlines, press conferences, or any number of schmoozier events. Restaurant patios were teeming with cool-looking customers talking movies and business over salads or pizza, and the Croisette was jam-packed with tourists and Riviera residents soaking up the hectic energy that is the Cannes Film Festival in its full, sun-kissed swing.

Contrary to the outdoor cheer, a pair of competition films from major Asian auteurs that screened for the press over the last 24 hours made for a decidedly downbeat one-two punch: Chinese filmmaker Jia Zhangke's "A Touch of Sin", a bitter, brutal, sometimes brilliant exploration of violence and corruption in contemporary China, and Iranian Asghar Farhadi's "The Past", a fitfully involving and strongly acted, if contrived, melodrama that came as somewhat of a letdown after the director's 2011 triumph "A Separation".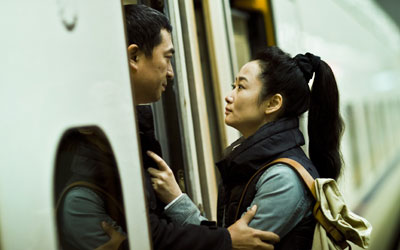 Zhao Tao, right, in Jia Zhangke's "A Touch of Sin"

Beyond the fact that both present bleak visions–the first of a nation and its disenfranchised citizens, the second of family and romantic relationships –"A Touch of Sin" and "The Past" mark a change of direction for the men who made them. Unlike his previous work (including the wonderful "The World"), Jia's new movie is propelled by bursts of action and bloodshed, while Farhadi ventures for the first time outside his native Iran, transposing his usual themes of domestic discord to the French capital and (more notably, for someone who barely speaks the language) into French.

A scorching portrait of contemporary China

Both efforts yield mixed results, but "A Touch of Sin" is the more penetrating piece of work. Separated into four stories all based on recent events in China (the main figures are a miner, a migrant worker, a spa employee, and a teenage factory hand), the film paints a despairing picture of a country ravaged by socio-economic woes and populated by exploited individuals pushed to acts of rage and destruction.

Not all the segments are equally compelling. The second one (focused on the migrant worker) is slow to find its rhythm, whereas the third (in which Jia's wife, Zhao Tao, gives a gripping performance as a used and abused spa receptionist) crescendos to an explosive climax. But Jia punctuates his ruminative pace and realism-driven style with startling images of horror and sensuality, conjuring a vast, rugged China of snakes, sandstorms, sex workers, and beleaguered-looking villagers slurping bowls of noodles or huddling together in the cold to watch an outdoor opera performance.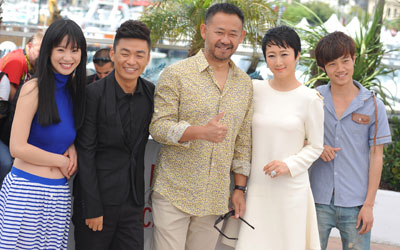 The cast of Jia Zhangke's "A Touch of Sin" on Friday (Photo: Mehdi Chébil)

As in many of Jia's films, the characters in "A Touch of Sin" are restless figures, constantly plotting their escape to another place and a better life. What feels new, though, is the director's play on various genres–western, crime film, martial arts flick, and romantic melodrama–to tell his stories.

It's an uneven movie, and sometimes unpleasant to watch (shootings, slashings, and beatings galore), but its ambition and blistering anger sear themselves into your memory.

'The Past' disappoints, but lingers in the mind

Farhadi's "The Past", too, finds the director embracing new challenges. Like "A Separation", the film centres on a couple going through a divorce–an Iranian played by Ali Mosaffa and his French wife, played by "The Artist"'s Bérénice Bejo–and the ensuing secrets, lies, and complications (in this case, with regards to the woman's children and her new lover, played by an excellent Tahar Rahim). But this time, the action unfolds in Paris and the screenplay is in French.

Therein lies one of the film's problems. The mysteries, dilemmas, and bad choices that made the Tehran-set "A Separation" so electrifying were rooted in the respective roles the characters found themselves trapped in as Iranians. In France, without the context of a repressive country and the cultural-religious baggage that goes with it, the plot's tangled web of deceptions and dissimulations loses much of its meaning; devoid of any urgent socio-political dimension, the story of an estranged husband and wife reunited just as the latter is trying to move forward with a new man becomes pure melodrama, and the pile-up of twists and red herrings seems slightly arbitrary.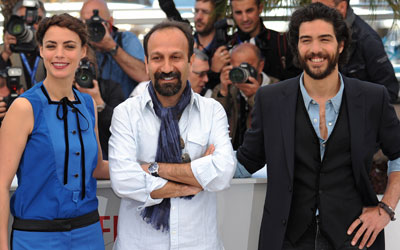 Bérénice Bejo, Asghar Farhadi, and Tahar Rahim on Friday (Photo: Mehdi Chébil)
Farhadi's superb sense of pacing is evident for the first hour or so. Spats and misunderstandings unfold with thriller-like velocity, dialogue flies back and forth like gunfire, and suspense sneaks up on us. But somewhere around the midway point of the film's 130-minute running time, the storyline, loaded down with a growing roster of unhappy characters and coincidences, starts feeling overstretched–and I started feeling fidgety.

"The Past" has many things to recommend it, not least of which is a forceful, diva-like performance from Bejo (she speaks, and she's good!), who pulls off the impressive feat of humanising a woman who, on paper, is a bit of a shrew.

Despite its various disappointments, the movie stays with you. Farhadi has a genuine feel for human anguish, and the way our personal histories can entangle us even as we strive with all our might to move on. Searching for meaning amid all the suffering onscreen, I wondered: though it takes place on French soil, could the romantic and familial struggles in "The Past" be a metaphor for the Iranian experience at large?
Tags for all blogs :
Comments or opinions expressed on this blog are those of the individual contributors only, and do not necessarily represent the views of FRANCE 24. The content on this blog is provided on an "as-is" basis. FRANCE 24 is not liable for any damages whatsoever arising out of the content or use of this blog.