Sat, 05/18/2013 - 19:01
At Cannes, directors disappoint as chefs to the stars delight
Cannes has had a turbulent 24 hours.

First, a thief swiped 1 million dollars of Chopard jewels from the sleek Novotel Suite hotel, in a twist straight out of Hitchcock's Riviera-set "To Catch a Thief".

Several hours later, a man fired blanks into a crowd, sending passersby -- as well as jurors Christophe Waltz and Daniel Auteuil, who were being interviewed in the vicinity – fleeing in panic.

The films that screened in competition, on the other hand, hardly set pulses racing.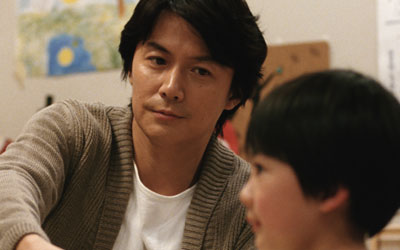 Masaharu Fukuyama, left, in Kore-eda Hirokazu's "Like Father, Like Son"

Indeed, the festival sputtered with two weak entries from strong directors: "Like Father, Like Son", a sweet, but cliché-ridden drama from Japan's Kore-eda Hirokazu, and "Jimmy P: Psychotherapy of a Plains Indian", a US-set effort from France's wildly talented Arnaud Desplechin that is uncharacteristically flat and plodding.

Neither is a disaster. "Like Father, Like Son", which tells the done-to-death story of two couples who learn their young sons were switched at birth, has a pleasant rhythm and some lovely moments scattered throughout. But how dismaying to see the man who made "Still Walking", with its rich characters and gently shifting emotional dynamics, rely on tear-jerking narrative arcs (the career-oriented father played by Masaharu Fukuyama learns to accept his underachieving non-biological son), trite clash-of-the-classes schtick (one of the families is bourgeois, the other working-class), and perhaps the most overused piece of classic music in film history (Bach's "Goldberg Variations").

Critics are sometimes tempted to forgive weaknesses in a foreign film that they never would in a movie made in their native tongue – and there was speculation that jury head Steven Spielberg would be moved by Kore-eda's examination of a theme that runs through much of his own work: the separation of children and parents.

But even if the Japanese director surely tells this story with a great deal more delicacy than a Hollywood hire would, the sentimentality and lack of surprise in "Like Father, Like Son" are a letdown.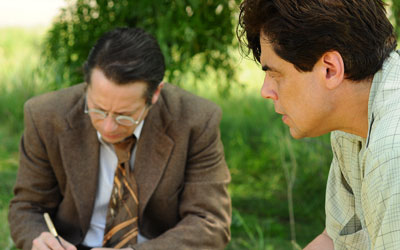 Mathieu Amalric, left, and Benicio del Toro in Arnaud Desplechin's " Jimmy P: Psychotherapy of a Plains Indian"

Even more of a letdown, though, was Desplechin's entry, which finds the director of terrific, textured explorations of family dysfunction "Kings and Queen" and "A Christmas Tale" (as well as the flawed, fascinating "Esther Kahn") turning out a poorly paced, visually uninspired film about a Native American World War II veteran (Benicio del Toro) and his French-Romanian therapist (Mathieu Amalric).

Desplechin reins in his usually dynamic camera – which in the past has plunged us into the middle of whatever it's filming with fearless aplomb – and seems to be aiming for a stately Clint Eastwood-esque style, complete with an ever-present melodramatic score by Howard Shore. But the result feels bland and remote. If the director clearly has a genuine interest in the mechanics of psychoanalysis, he never finds a way to bring the sessions he stages to life, or make the relationship between therapist and patient compelling.

Meanwhile, the two very fine actors are left to their own devices, with each slipping into the worst kind of default mode: Amalric chews the scenery, while del Toro sulks and mumbles.

Rather than suggesting a director trying something new, Desplechin's first outing in the US seems to have robbed him of his personality.

A lunch fit for a star

For a much-needed pick-me-up after the "Jimmy P" screening, I headed to a small luncheon sponsored by kitchen appliance brand Electrolux and prepared by a pair of Michelin-starred Italian chefs, the brothers Christian and Manuel Costardi.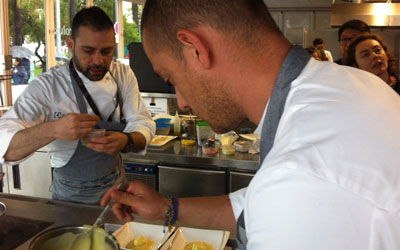 Christian, left, and Manuel Costardi prepare lunch

The Costardis are two of a handful of chefs chosen to cater all the swankiest festival events, including the opening gala dinner and jury deliberation meals. On Friday night, they cooked for Jane Fonda and a small group of her friends, and today, Saturday, they made us the very same meal – a scrumptious 7-course feast (I had to duck out before the two dessert courses) inspired by Jacques Cousteau's 1956 Palme d'Or-winning nature documentary, "The Silent World" .

Ten or so journalists and I were served: an assortment of sashimi drizzled with citrus and served on a slab of stone (pictured below); steamed sea bass in a warm, briny salt bath; sweetbreads on a bed of root vegetables and bread crumbs (we were told what the melt-in-your-mouth, only mildly gamy meat was after we ate it, to avoid any squeamishness); basil-infused risotto topped with raw fish; and roasted partridge.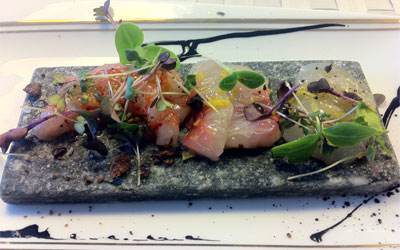 In between courses, Christian, the chattier brother ("I talk, he cooks," he joked, pointing at the more reserved Manuel), stopped by to field questions. When asked about preparing intimate dinners and lunches for picky stars at the festival, he explained that sometimes he and his brother get requests like vegan meals or no wheat.

"I personally think that everyone can eat anything, unless they have an allergy," Costaldi offered in charmingly accented English. "But sometimes we do make the food with only certain ingredients for certain people. That's part of the challenge."

The menu for the final jury deliberation lunch is currently being brainstormed. As for specific demands, diet restrictions, or preferences (what does Nicole Kidman like or not like?), that information was being kept under wraps.

On my way back to the office, dodging umbrellas amid a driving rain storm (yes, again), I crossed paths with famous producer Harvey Weinstein, who muttered to his female companion: "Worst weather ever."

Indeed. But with such fantastic food in my stomach, I didn't even care.

Tags for all blogs :
Comments or opinions expressed on this blog are those of the individual contributors only, and do not necessarily represent the views of FRANCE 24. The content on this blog is provided on an "as-is" basis. FRANCE 24 is not liable for any damages whatsoever arising out of the content or use of this blog.