Fri, 05/13/2011 - 13:37
A rising star on 'the problems' of being a black actor in France
Everyone knows there are stars and superstars at Cannes. But there are also lesser known and totally unknown actors, who come to the festival to self-promote, hustle up contacts and get ahead in a notoriously tough business.

One of those people is 30-year-old Tony Mpoudja, a black, Paris-born actor, musician and writer, who made his début in the 2001 inner-city crime saga "La Squale" (directed by Fabrice Genestal) and followed it up with a handful of supporting roles – including a small part in Claire Denis' very moving father-daughter drama "35 Shots of Rum".

Mpoudja talked to us about what he's up to on the Croisette, his ambitions, his upcoming projects, and the challenges of being a black actor in France.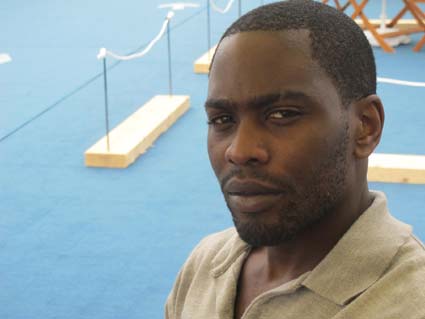 What are you doing here in Cannes?

I'm making the rounds, promoting two movies I did this year: one called "La mer à boire", by Jacques Maillot and starring Daniel Auteuil, and the other is a TV movie called "Pierre Goldman" by Christophe Blanc, starring Samuel Benchetrit. I have big roles in both films.

Does your schedule include partying?

I only got in yesterday. But I went to six parties last night. The one at the Hotel Martinez was great.

How do you find the situation in France for minority actors and actresses?

I think things are evolving, but there are still problems with the scripts and the kind of characters you can play as a black actor in France. There is much that can be done with minorities in this business. It's 2011, everything is possible. In America, we see that there are a lot of black and Latino actors and actresses who are bankable. I think in France, it's possible too. We're not stupid. I think we can do even better than the Americans, but we have to be smart about it, to write good scripts and good roles for minority actors. That's why I'm here in this business; I want to help things evolve. I want to be an example. And I hope that in a few years, we'll be able to see a black actor as the star of a very big French production.

Are the roles you audition for specifically written for a black actor?

Sometimes yes, in the script it's specified that the character is black. And sometimes with my agent, we try and find roles that are not necessarily intended for a black actor. So we try to meet with the people doing the film and see what's possible. I don't think it's the writers who are the problem. In my opinion, it's the producers. They want to make money, and they don't want to take risks. But if they don't try, they'll never know. I hope there will be more producers who say: "I'm going to put a black actor or a Chinese actor in the main role for my movie."

Who are the actors that inspire you?

I love what Djimon Hounson does. Robert De Niro, obviously. Leonardo Di Caprio is one of the best. Also Brad Pitt, Wesley Snipes, and Will Smith -- I like his style. And Sean Penn. In France, Vincent Cassel is one of the best actors of any generation. Nicolas Duvauchelle [one of the stars of Maiwenn's "Polisse", in competition this year]. I like him. Everyone tells me I should work with him, and he told me last night that people tell him he should work with me.

What about the directors you'd like to work with in the future?

In France, I want to work with Jacques Audiard [director of "The Beat That My Heart Skipped" and 2009 Cannes favourite "A Prophet"], who is a very smart director and a crazy artist. Olivier Assayas [member of this year's jury and director of biopic "Carlos" which screened here last year]. Tony Gatlif. I want to work with American directors too: Spike Lee, Steven Spielberg, Terrence Malick. I would love to do a biopic of the life of [Nigerian musician and activist] Fela Kuti.
Comments or opinions expressed on this blog are those of the individual contributors only, and do not necessarily represent the views of FRANCE 24. The content on this blog is provided on an "as-is" basis. FRANCE 24 is not liable for any damages whatsoever arising out of the content or use of this blog.