Wed, 05/18/2011 - 20:03
Bad boys of the Croisette: Von Trier and French politicians burst Cannes bubble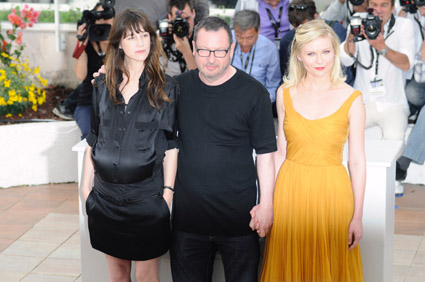 Lars Von Trier and leading ladies Charlotte Gainsbourg, left, and Kirsten Dunst. (Photo: Mehdi Chebil)
On Monday, Terrence Malick's magnificent mood piece "The Tree of Life" gave a sleepy competition just the jolt it needed, generating the kind of passionate critical divide Cannes thrives on. All eyes then turned toward Wednesday, when the press would likely get another film to fight over: "Melancholia", the new work by Lars Von Trier, the famously mercurial Danish director whose bleak parables (often about women suffering) tend to either fascinate or repulse.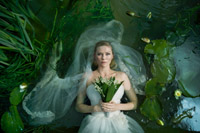 I haven't liked any of Von Trier's movies since "Breaking the Waves" (the Palme d'Or of Unwatchability going to "Manderlay" and the Grand Prix of Pretentiousness to "Antichrist"). So I was looking forward to "Melancholia", a science-fiction-inflected drama about two sisters, played by the fascinatingly mismatched Kirsten Dunst (ethereal, sulky, moonfaced, California-blonde) and Charlotte Gainsbourg (grave, sinewy, dark, British), who react very differently to the news that another planet is heading toward Earth.

Set in and around a luxurious country house, "Melancholia" is visually stunning, with Von Trier and cinematographer Manuel Alberto Claro making great use of deep, decadent colours to create a sense of natural wonder threatened by disaster: the lush green of the land, the dark blue night sky, golden light radiating from the house and the stars. There's a gentleness to the images here that feels like a gift, especially after the harsh, washed-out look of "Antichrist".


But leave it to Von Trier to take a killer idea – two women whose mental states shift in opposite directions as they're faced with cataclysmic change – and make it a slog to sit through. The slow pacing and pointlessly shaky handheld camerawork in the first half are less problematic than Von Trier's inability to get us emotionally invested in what's happening onscreen. The premise is fraught with terror and anxiety, and the actresses are sympathetic and striking (Dunst in particular has never before seemed so haunted, so mature), but Von Trier is too busy being creepy and apocalyptic (something he does well, admittedly) to fully tap into the story's human undercurrents. "Melancholia" is aesthetically ravishing, but dramatically pretty dull.

The biggest surprise in the film is that there's very little that's particularly shocking in it; there's a perversely timed round of coitus on a lawn and a bit of violence toward an innocent horse, but nothing in the league of the genital hacking in "Antichrist".

Maybe that's why Von Trier decided to pull out all the stops at his press conference. Asked about his German origins, part of the director's response was: "My family were German. And that also gave me some pleasure. What can I say? I understand Hitler…I sympathise with him a bit." As Kirsten Dunst squirmed uncomfortably in the next seat over, Von Trier continued: "I don't mean I'm in favor of World War II and I'm not against Jews….In fact I'm very much in favour of them. All Jews. Well, Israel is a pain in the ass…"

Then, the (facetious) kicker: "Now how can I get out of this sentence? Ok. I'm a Nazi."

Oh, that Lars. What a comedian. You can watch the press conference here -- the train wreck begins at around 34:38.

Meanwhile, the other hot ticket was Xavier Durringer's out-of-competition "The Conquest", the first French film about a sitting president. Most people at the press screening were Francophone, understandably: the film is inside baseball for French politics junkies.

Indeed most of the fun comes in the first 20 minutes, which plays like a who's-who of smug Gallic politicos: Bernard Le Coq makes an amusingly bumbling, casually caustic Jacques Chirac, Samuel Labarthe, all oily charm, plays a two-faced Dominique de Villepin, and lead Denis Podalydès nails the vocal mannerisms and fidgety intensity of Sarkozy.

The movie itself never rises above TV-film quality, as it tracks Sarkozy's professional rise and personal fall (the deterioration of his marriage to Cécilia) with no particular purpose or perspective. The tone is light and the dialogue full of pithy sound bites, but the structure is ploddingly episodic, and despite the colourful characters that people it, the film doesn't have much personality of its own.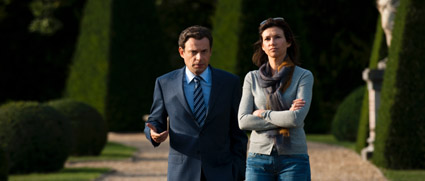 The Cannes crowd is a left-leaning bunch, and those hoping for a searing send-up of a political animal with oversized ambition stumbled out disappointed by the relative timidity of Durringer's vision – which is limited by the fact that "The Conquest" ends as Sarkozy is elected, before his fall from grace (or at least from good poll numbers).

Given the more topical and sordid political drama of the Dominique Strauss-Kahn rape allegations, "The Conquest" also feels somewhat anticlimactic. We were watching a film about Sarko, but minds were very much on DSK. When, in one scene, Sarkozy whispers lasciviously to a flirtatious female journalist "We politicians are sexual beasts!", the laughter in the theatre had an uneasiness to it. Consider the Cannes bubble officially burst.

Listen below for my take on the last few days on the Croisette.

Comments or opinions expressed on this blog are those of the individual contributors only, and do not necessarily represent the views of FRANCE 24. The content on this blog is provided on an "as-is" basis. FRANCE 24 is not liable for any damages whatsoever arising out of the content or use of this blog.