Thu, 05/19/2011 - 16:24
Banished Von Trier steals Almodovar's (feeble) thunder, and critics react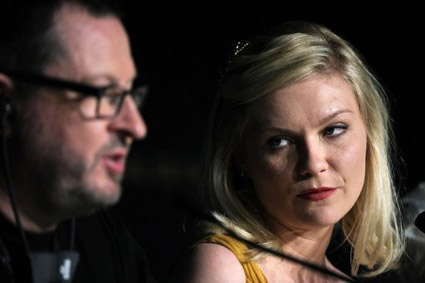 Actress Kirsten Dunst looks on as Lars Von Trier gets himself into trouble at the press conference for "Melancholia" yesterday.

Pedro Almodovar must be annoyed. His new film, "The Skin I Live In", was shown to the press this morning, but no one even had a chance to digest it before Lars Von Trier snatched back the spotlight. Less than an hour after the Almodovar screening ended, Cannes organisers released a statement (read it on the official Cannes site here) saying Von Trier had been asked to leave the festival after the comments he made on Hitler and Jews at the press conference for his film "Melancholia" yesterday.

Almodovar's movie was underwhelming – a revenge thriller about a twisted surgeon (played by Antonio Banderas), in which the filmmaker's stylistic panache and fondness for twisting his plot and toying with chronology can't conceal a conspicuous lack of the passion that gives his best movies their furious momentum and emotional pull.


But there was no time to debate the merits of "The Skin I Live In", since all talk was of the unprecedented decision to banish a Cannes regular (several of his films have screened here, and "Dancer in the Dark" took home the Palme in 2000). To refresh your memories, Von Trier made a terribly misguided attempt at what seemed to be a perverse joke about understanding Hitler, in response to a question about his own German origins at his press conference yesterday. Take a look at the squirm-inducing moment below; posted by the Telegraph on its YouTube channel:

Von Trier is known to be a provocateur, both in his films and in real life. Earlier in the press conference yesterday, he talked about making a lesbian porn movie starring Kirsten Dunst and Charlotte Gainsbourg – neither of whom looked particularly amused. But the remarks on Jews were a step too far for Cannes organisers, despite Von Trier's subsequent apologies.

Their statement today read that the festival "profoundly regrets that this forum has been used by Lars Von Trier to express comments that are unacceptable, intolerable, and contrary to the ideals of humanity and generosity that preside over the very existence of the festival." Then, the conclusion: "The board of directors firmly condemns these comments and declares Lars Von Trier persona non grata at the Festival de Cannes, with effect immediately," the statement said.

Reactions to the news was mixed, with some journalists present on the Croisette taking to their Twitter accounts to leap to the director's defence. Time Out London critic Dave Calhoun tweeted "Von Trier/Nazi stuff is nonsense. He said nothing offensive." Another London-based critic covering the festival, Guy Lodge, tweeted "Cannes declaring Lars von Trier 'persona non grata' for his (media-exaggerated) Hitler gaffe really is fighting stupid with stupid". Meanwhile, prominent French film critic Aurélien Ferenczi (who writes for magazine Télérama) tweeted: "His film is (exceptionally) bad, but expelling Lars Von Trier…he was joking, guys" (translated from French).

American critic Lisa Nesselson shared her take on the situation with us. Listen below.


As for my own opinion, I think Von Trier was trying to make a very tasteless joke (in a language that he does not master perfectly – always a mistake), got lost in it, and instead of stopping or turning back, plowed ahead. I don't think there was genuine hatred there, just insensitivity and ignorance. I wouldn't necessarily have kicked him out of the festival, but I certainly don't feel sorry for him. Provocation has consequences.

So Von Trier is presumably packing his bags and will be on the next Denmark-bound plane – or perhaps not, since he is known to have a crippling fear of flying.

However he plans to get home, Von Trier can rest assured that his film, which was well-received by a large portion of the press, will still be in the running for the big prize. A representative from the festival said that "Melancholia" indeed retains its place in competition.

Here's what I said on Von Trier's comments before the festival decided to give him the boot.


Tags for all blogs :
Comments or opinions expressed on this blog are those of the individual contributors only, and do not necessarily represent the views of FRANCE 24. The content on this blog is provided on an "as-is" basis. FRANCE 24 is not liable for any damages whatsoever arising out of the content or use of this blog.