Thu, 05/17/2012 - 19:32
Cannes mood darkens with melodramas about politics and romance
It was bound to happen: the good cheer is starting to fade, and the grumbling has begun.

What went wrong?

For starters, the second competition film to screen for the press on Wednesday, Egyptian director Yousry Nasrallah's "After the Battle", was as close to a dud as one hopes Cannes will get this year: a heavy-handed, visually insipid take on the Arab Spring and its impact on various segments of Egyptian society.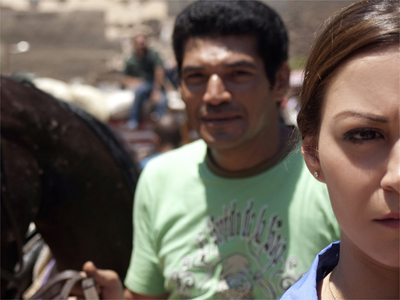 Centering on an upwardly mobile Cairo activist (Meena Chalaby) and her relationship with a working-class horse trainer (Bassem Samra) who has become a pariah for opposing the revolution, "After the Battle" has a provocative, highly topical storyline – which surely explains why the movie is in competition. That wouldn't necessarily pose a problem, except that just days ago, Cannes artistic director Thierry Fremaux responded to feminists up in arms over the absence of women in this year's selection by arguing that the line-up is composed based on purely artistic criteria.

Hmmm. As one British critic wryly said of "After the Battle" via Twitter: "Cardboardy TV-movie, but apparently better than any new Cannes-ready pic directed by a woman".

African films are certainly few and far between in competition here - Mahamat-Saleh Haroun's lovely "A Screaming Man" was a welcome exception in 2010 - but if Fremaux refuses to give special preference to female directors, should he be favoring sub-par movies just because they hail from certain geographic regions or deal with subjects that are ripped from the headlines? Or is it possible he actually thought "After the Battle", with its soap-opera-ish plot mechanics, overly explanatory dialogue, and drab cinematography, was one of the 22 best films out of the 1,779 submitted for Cannes consideration this year?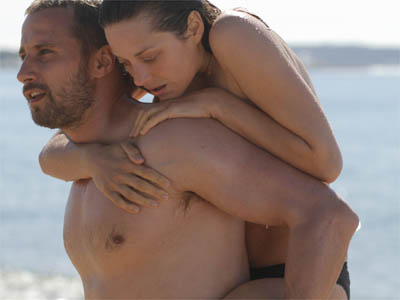 Another flawed, but far superior melodrama screened for the press bright and early this morning: Jacques Audiard's bruising, beautifully acted "Rust and Bone", based on a book of short stories by Craig Davidson. The movie takes a contrived-sounding romance between a killer whale trainer (played by Hollywood's favorite French actress, Marion Cotillard) whose legs are amputated after a work accident and a homeless drifter (magnetic rising Belgian star Matthias Schoenaerts), and turns it into a visceral, idiosyncratic exploration of battered bodies in search of souls.

Audiard made the nearly universally admired mafia initiation drama "A Prophet" (winner of the second-place Grand Prize at Cannes in 2009), so pretty much everyone I've chatted with since getting here was looking forward to "Rust and Bone". But a noticeable critical divide seemed to form after this morning's screening. Most of the French press lauded what they saw as a knockout, while a number of American critics took to Twitter to describe the film in unflattering terms: "manipulative", "flashy", "disease-of-the-week movie".

Could "Rust and Bone" turn out to be this year's "Footnote" (the Israeli film from the 2011 competition), the love-it-or-hate-it film whose champions and detractors tend to break down along cultural lines? I hate excessive misery in movies - I had an almost allergic reaction to Alejandro Gonzalez Inarritu's "Biutiful" at Cannes two years ago. But I found that though "Rust and Bone" could have been disastrously overwrought (and, let's face it, probably would have been if it had been made by an American director), Audiard handles things with great sensitivity and considerable – if not quite enough – restraint.

There are a few unnecessarily dire plot twists toward the end, as well as a handful of scenes that ring false or feel overly-familiar (for example, Cotillard's run-in with a nightclub flirt who initially fails to notice she has no legs). And I could have done without Alexandre Desplat's sparingly used but slightly insistent piano and violin score. But the relationship that develops between the two central characters is written and played with humor and understated tenderness, and over and over I marvelled at how Audiard transforms scenes that could have been maudlin into indelible moments of grace: Cotillard's character practicing a whale-training routine in her wheelchair to Katy Perry's self-empowerment anthem "Firework" (it sounds embarrassing; it's sublime), or placing her hand against an aquarium's glass wall to lure one of the orcas, making peace with the beast that maimed her.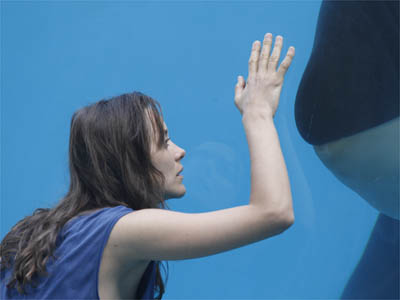 Audiard doesn't try anything groundbreaking stylistically here; he relies on handheld camerawork, images bathed in light, and close-ups of faces, as well as limbs in motion or at rest. But "Rust and Bone" is fluid and organic-feeling, and the director keeps his focus on the main attraction: the two leads. No one is better at playing a woman in love than Cotillard. I can still recall her glow in the New York City-set section of the otherwise unremarkable Edith Piaf biopic "Ma Vie en Rose", when she falls for boxer Marcel Cerdan - as well as in Woody Allen's "Midnight in Paris", when she strolls along the Seine with Owen Wilson. In "Rust and Bone", the glow emerges gradually from beneath a depressive haze, and the perfectly controlled dance of emotions on Cotillard's face as her character alternately opens up and recoils is deeply moving.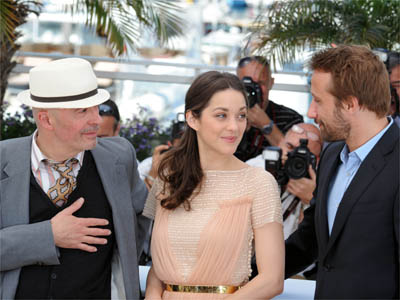 Jacques Audiard, Marion Cotillard, and Matthias Schoenaerts at a photo call Thursday (Mehdi Chebil).

Schoenaerts has a more one-note role – he's the brute with a soft side – but with his gruff voice, piercing blue eyes, and bulky, imposing physique, he's both a magnificent camera object and a smashingly appealing leading man. Given his reportedly stellar English, I predict he'll soon have offers flooding in from Hollywood.

"Rust and Bone" has some glaring problems, but it's a work of force and passion, and it gets its hooks in pretty deep. Audiard's movie may be downbeat, but after Nasrallah soured my mood slightly, it was enough to put a smile back on my face.
Comments or opinions expressed on this blog are those of the individual contributors only, and do not necessarily represent the views of FRANCE 24. The content on this blog is provided on an "as-is" basis. FRANCE 24 is not liable for any damages whatsoever arising out of the content or use of this blog.