Fri, 05/18/2012 - 19:58
At rainy Cannes, sex, lies, gossip, and reality TV
The rain came down hard today in Cannes, and the Croisette - usually packed with publicists and photographers on the move, fans milling about with cameras, would-be starlets in impossibly high heels, and cops barking orders – was suddenly looking rather sad. Those left stranded in the Mediterranean storm ran for cover, using festival programs and newspapers to shield their heads.

Occasionally, something as commonplace and unglamorous as bad weather can burst the otherwise immaculate, sun-kissed Cannes bubble.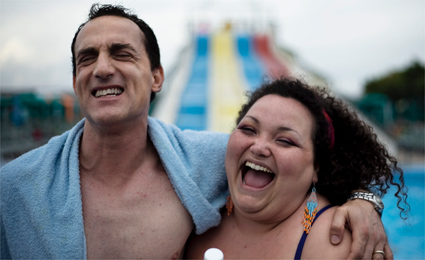 We critics and journalists spent the morning dry and comfortable in screening rooms – but that doesn't mean we were having much fun. On the competition program today was Matteo Garrone's "Reality" (photo above), a toothless satire targeting Italy's celebrity-obsessed culture, in which a fishmonger becomes pathologically fixated on joining the cast of "Big Brother". Hopes were high for the movie, as the Italian director took home the second-place Grand Prize in 2008 for his mafia film "Gomorrah". But "Reality" feels overlong and obvious, with a whimsical score (another one by Alexandre Desplat, who needs a vacation), as well as a few Fellini-esque flourishes (fleshy women and colorful characters abound), failing to liven things up.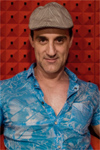 More interesting than the film itself is the story behind its fine lead actor, Aniello Arena (left). Accused of killing two people, Arena has been incarcerated since 1993, but thanks to acting workshops in prison he was released for several days to shoot "Reality". He was not, however, allowed to attend the festival.

A bolder satire screening in competition Friday, but one that's equally redundant and short on ideas, was Austrian Ulrich Seidl's "Paradise: Love" (photo below). Like Laurent Cantet's awkward "Heading South", the film is about middle-aged women (in this case, a gaggle of plump, giggly Austrians) who travel to a foreign country (in this case, Kenya) for sex tourism. "Paradise: Love", with its painterly, precisely composed static shots, is formally rigorous, and lead actress Margarethe Tiesel gives the kind of fearless performance that juries like to reward. But the movie tosses around the same few ideas about mutual exploitation, racism, and sex for two hours without getting anywhere deeper or more revealing. Seidl rubs our noses in dysfunction, but doesn't seem to have much to say about it.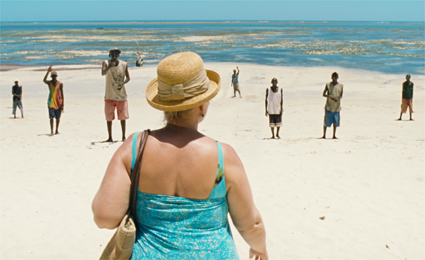 More enticing than the movies Friday was some of the gossip about people, parties, press conferences, and deals being cut. This kind of information circulates quickly at Cannes, but it helps to have an inside source – like our very own red-carpet photographer, Mehdi Chebil, who gets to see the stars up close and faithfully reports back on what he observes.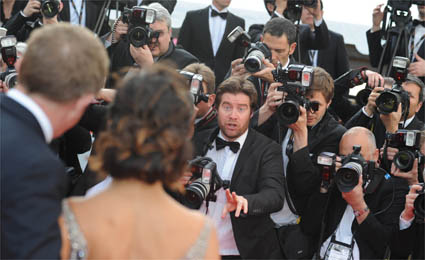 Concerning this year's jury, Mehdi told us that designer Jean-Paul Gaultier seems delighted to be strutting his stuff in front of photographers, as opposed to the chillier Ewan McGregor and anxious-looking jury president Nanni Moretti. And terrific French actress Emmanuelle Devos appears a bit sulky, perhaps, Mehdi said, because fellow juror German star Diane Kruger gets more attention from the photogs. No one said Cannes isn't superficial.

As for other stars, Mehdi noted that despite her Hollywood training, Marion Cotillard was cold and distant on the red carpet Thursday – unlike her "Rust and Bone" partner Matthias Schoenaerts, who "was into it".

Meanwhile, at the gala screening for DreamWorks animated feature "Madagascar 3" (out of competition), Ben Stiller looked like he was just "going through the motions" for photographers, while other stars were enjoying themselves. "Chris Rock (below) danced up the red carpet," Mehdi told us, "while Jessica Chastain and Jada Pinkett-Smith stopped to pose for lots of pictures."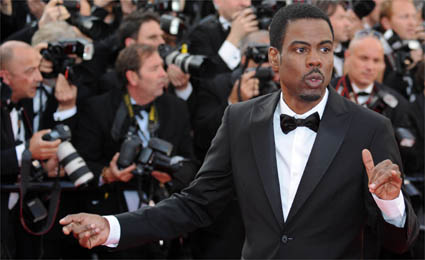 On a slightly more substantial note, a few press conferences generated a bit of buzz over the past few days (though nothing on the scale of Lars Von Trier's verbal meltdown last year). Egyptian Yousry Nasrallah told journalists he hoped his competition entry "After the Battle" would not be distributed in Israel, "as long as the Israelis still occupy the Palestinian territories". Perhaps wary of creating too much controversy, Nasrallah added: "A number of great Israeli directors are my friends."

At the jury news conference, Diane Kruger (below) was grilled about the allegations that the absence of female directors in competition this year is evidence of sexism on the part of Cannes director Thierry Fremaux and his cohorts. "My impression is that women are made welcome in Cannes," Kruger said diplomatically - perhaps because the festival picked her for the prestigious jury gig?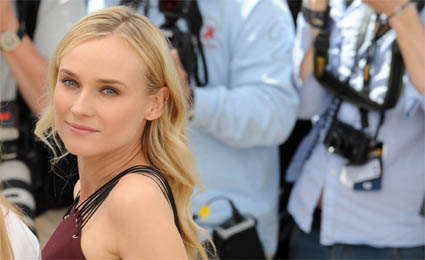 As a place where cinema heavyweights from around the globe congregate, Cannes also allows you to get the latest news on upcoming projects. One of the juiciest bits of information to emerge is that Marion Cotillard will have the main role in the next movie by Iran's Asghar Farhadi, who directed the excellent "A Separation". Farhadi's new film is rumoured to be a "social thriller" and will begin shooting in Paris this fall.

And Pedro Almodovar fans will be happy to learn that he is about to start shooting his next movie: "Los Amantes Pasajeros", staring Cecilia Roth (from "All About My Mother") and Javier Camara (from "Talk to Her"), about a group of travellers who find themselves in a life-or-death situation aboard a plane.

The person who's had the best time at the festival yet, according to my spies, is French filmmaker Michel Gondry. He was seen dancing up a storm and smooching an unknown young woman at a party Thursday night. His film, "The We and the I", drew only a mixed reaction from critics who saw it yesterday in the Directors' Fortnight sidebar section.

But good reviews or bad, rain or shine, the Cannes show must go on.
Comments or opinions expressed on this blog are those of the individual contributors only, and do not necessarily represent the views of FRANCE 24. The content on this blog is provided on an "as-is" basis. FRANCE 24 is not liable for any damages whatsoever arising out of the content or use of this blog.