Mon, 05/20/2013 - 20:10
US, Palestinian thrillers about violence and vengeance electrify Cannes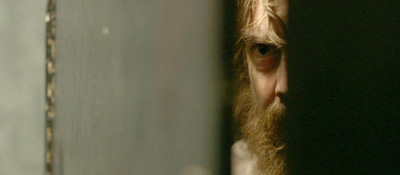 Macon Blair in "Blue Ruin"

Though the main competition is always the big attraction at Cannes, sometimes the buzz leads you off the beaten path.

So it was for "Blue Ruin", a taut, atmospheric and darkly comic thriller from a largely unknown American director and featuring no big-name actors, which screened in independent side section "Director's Fortnight" over the weekend and quickly became the talk of the town.

After seeing the film, which revolves around a drifter (played by Macon Blair as one of the most likeable-looking killers to appear onscreen in a long time) out to avenge the murder of his parents, Harvey Weinstein snatched it up for US distribution. Critics, meanwhile, drew comparisons to the Coen brothers' noir début "Blood Simple" and their magisterial chase film "No Country for Old Men".

An auspicious Cannes début

The film's baby-faced, Brooklyn-based 36-year-old director Jeremy Saulnier was deeply flattered by the response (especially since he counts the Coens, along with Michael Mann's 1981 film "Thief", as influences), telling FRANCE 24 that his first outing at Cannes has been an exhilarating whirlwind. "[It's] been overwhelming, there's a feeling of excess and the parties are a little sleazy," he said. "But beyond the velvet ropes and underneath the blaring techno, people love films. I feel a deep, cultural appreciation for cinema here. It's not necessarily like that at American film festivals."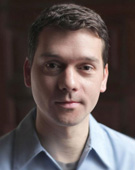 Saulnier (right), whose first movie was the under-the-radar horror comedy "Murder Party", is originally from Virginia, where much of "Blue Ruin" takes place. The film contains frequent bursts of gun violence, and nearly everyone onscreen – of both genders -- owns a weapon and knows exactly how to use it.

At the screening we attended, some of the most blood-soaked moments earned guffaws. But Saulnier explained that he wasn't out to get laughs. "I wasn't necessarily trying to be satirical," the director explained. "I'm from Virginia, and guns are everywhere there. It's the reality. But seeing my film through the eyes of a French audience, I realized that there are indeed comic elements to how many guns are seen in the film."

Saulnier admitted that he himself enjoys "shooting guns at ranges", but does not own a gun. Conscious that gun control has become a burning issue in the US in the wake of a spate of deadly mass shootings, the filmmaker clarified his own position. "I think the government should ban assault weapons," he said. "That said, I didn't want the film to be preachy, and I actually removed lines of dialogue that were overt references to the politics surrounding the gun laws."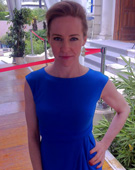 Saulnier wasn't the only one from "Blue Ruin" enjoying Cannes for the first time. Amy Hargreaves (left), a 43-year-old actress who has been working since she was 12 but is best known these days for her role as Claire Danes' sister on hit show "Homeland", plays the main character's sister in the film. "Cannes is a thrill," she told FRANCE 24. "Someone said to me last week that it's like the Oscars meets Mardi Gras. That hits the nail on the head."

Hargreaves, who makes a vivid impression in her small, but key part, wanted to be in "Blue Ruin" as soon as she read the screenplay. "I get a lot of scripts for independent films and often there's something missing, but I knew this was unique," she said.

Between "Blue Ruin" and especially "Homeland", which starts shooting its third season at the end of May, Hargreaves's star seems to be on the rise. "I'm the same actress as I was two years ago," she said. "What's changed is that before I was getting a lot of: 'Yeah, you're great, but the role's not going to you'. Now it's going to me."

'It's not my job to give hope', Palestinian director says

Another very warmly received thriller outside the main competition was Palestinian film "Omar", screened in the "Un Certain Regard" side section on Monday. Telling the story of three friends who take up arms against the Israeli occupation (and clash over the sister of one of the young men, whom the other two love), the movie is from Hany Abu-Assad, director of 2006 Foreign Language Oscar nominee "Paradise Now", about a pair of would-be suicide bombers.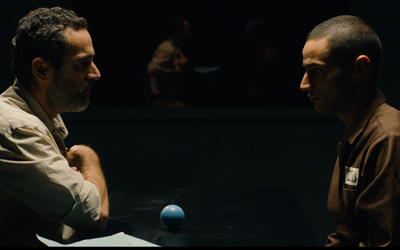 Waleed Zuaiter, left, and Adam Bakri in "Omar"

Though "Omar" isn't as gripping or urgent as the earlier movie – it has a rather conventional narrative arc and there are lulls in the rhythm – it remains an absorbing, powerfully directed look at hopes and relationships ravaged by the world's most intractable conflict.

In the film, an Israeli agent tries to turn one of the Palestinian militants into a mole, and the two characters share a few surprising bonding moments. Still, Abu-Assad (who has an Israeli passport but considers himself 100% Palestinian) was careful to point out that he was not pushing a message of peace in his film, which ends on a note of bristling anger. "It's not my job to give hope for reconciliation," he said. "My job is to let audiences, whether it's Palestinians, Israelis, Europeans, anyone, live a life that they can't live in reality."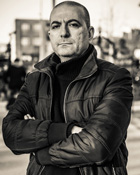 And while Cannes artistic director Thierry Frémaux introduced the film as an example of the cinematic fertility of Israel and the Palestinian territories, Abu-Assad (right) resists being lumped in with Israeli peers. "I don't feel connected to Israeli cinema. There's a kind of barrier between me and the art of the occupier," he confided. "Maybe I'm too traumatised."

He did, however, admit to liking some Israeli movies "here and there", citing Ari Folman (at Cannes in the "Director's Fortnight" section with "The Congress") as a "great filmmaker".

As for his next project, Abu-Assad said only that it is about a road trip and is not directly about Israeli-Palestinian strife. He also acknowledged the challenge of making a Palestinian film that is not, in some way, about the occupation. "If you show Palestinians travelling in a car, you have to show the checkpoints," he offered as an example. "Even if the story isn't about the conflict, you can't fully avoid it."
Tags for all blogs :
Comments or opinions expressed on this blog are those of the individual contributors only, and do not necessarily represent the views of FRANCE 24. The content on this blog is provided on an "as-is" basis. FRANCE 24 is not liable for any damages whatsoever arising out of the content or use of this blog.