Sun, 05/15/2011 - 22:34
Red carpet memories between grim movies
Sometimes it's easy to forget there's a fun, glittery side to this festival – especially since journalists are usually far from the red carpet, herded rather unglamorously into packed press screenings of films that often deal with the grimmer elements of the societies we live in.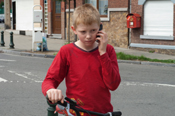 This year, there's a particularly high proportion of movies about miserable kids. After the pint-sized sociopath of "We Need to Talk About Kevin" and the abused children of "Polisse", the weekend brought two more tales of young people in trouble: Austrian Markus Schleinzer's directorial début, "Michael", a skillfully handled but rather academic account of a pedophile's queasy coexistence with a boy he keeps in a basement; and the Dardennes brothers' "The Kid with a Bike", an economically told story of a lonely foster child that lacks the tension distinguishing the Belgian neo-realist brothers' best work.

Needing a break from the bleakness and a little taste of the more frivolous side of the Croisette, we caught up for three quick questions with red-carpet photographer Daniel Beguin (pictured below), who's been snapping shots of stars at Cannes since 1972. Before darting off to develop his latest roll of film, Beguin filled us in on how the festival has changed, what makes a good red carpet photo, and who his favourite subjects are so far this year.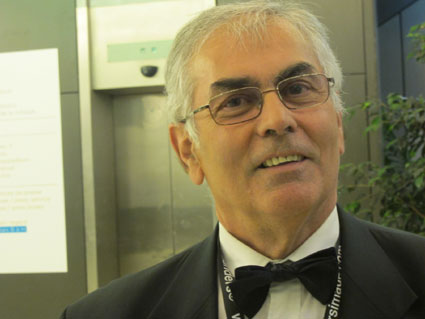 How has being a photographer at Cannes changed over the last 40 years?

Before it was all much more accessible and open. Stars would walk out of their hotel room and come by foot down to the red carpet -- and you could take photos of them as they did it. Sometimes we were invited to private boats for photo shoots there, instead of having to go through an official photo call with all the photographers. Now everything is controlled, timed, monitored down to every detail. We can take just a few shots, and then the actors are rushed away. The whole festival is much more closed now. The public has no access to the films and it's more difficult for them to have access to the glamour. It's very different.

What does it take to produce a good red carpet photograph?

Any photographer who has a good sense of timing and composition can do it. Aside from that, it's really all a matter of the star's behaviour and attitude, how they act around the cameras. Actors and actresses who give themselves over to the exercise fully will help you get a really good photo. Others are not so interested in playing the game.

Which red carpet have you enjoyed photographing the most so far this year?

Pirates of the Caribbean, with Johnny Depp and Penelope Cruz, was a good one. And the red carpet tonight for "The Artist" [Michel Hazanavicius' silent, black-and-white film with Jean Dujardin, left] was nice. And I liked photographing Jane Fonda when she came down the red carpet this year. I've photographed her in the past here. I hope I look as well preserved as she does when I'm her age!

Tags for all blogs :
Comments or opinions expressed on this blog are those of the individual contributors only, and do not necessarily represent the views of FRANCE 24. The content on this blog is provided on an "as-is" basis. FRANCE 24 is not liable for any damages whatsoever arising out of the content or use of this blog.