Sat, 05/19/2012 - 17:27
Young talent storms Cannes with stories of cross-dressing and gun-toting
Saturday was another cool, rainy day in Cannes, and despite plentiful palm trees and the beach just a few steps away, the Croisette had a bleak air about it.

Still, bleakness on the French Riviera is nothing compared to bleakness at a rural Romanian convent, as evidenced in one of Saturday's competition films: "Beyond the Hills" by Cristian Mungiu, winner of the 2007 Palme d'Or for his extraordinary "4 Months, 3 Weeks and 2 Days". That movie was such an exhilarating gut-punch of dramatic intensity and stylistic control that my expectations of Mungiu's new work were perhaps unreasonably high.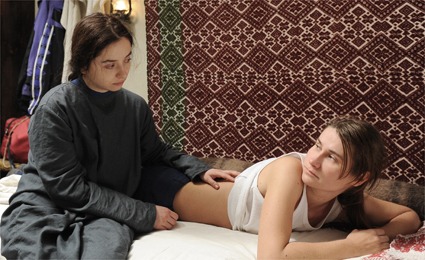 "Beyond the Hills" tells the story of Alina, a young woman (Cristina Flutur) who tries to convince Voichita (Cosmina Straten), her childhood friend and onetime lover, to leave the austere religious life she has chosen and move with her to Germany. As the film unfolds over 2 and a half hours, Mungiu shifts his focus from that relationship to the nuns and authoritarian priest who are increasingly convinced that Alina is possessed by the devil.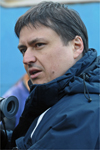 The filmmaker is more interested in methodically demonstrating the destructive potential of rigid faith than he is in the fraying bond between the two women, and while it's the more intellectually ambitious angle, I'm not sure it's the right one. Mungiu (left) loses himself in broader questions of religion and love, and after a gripping hour, he started to lose me too. "Beyond the Hills" has powerful moments, but the aesthetic rigor (a no-frills realism expressed through long handheld takes and muted shades of grey and brown) feels less purposeful than in "4 Months, 3 Weeks and 2 Days", and the new movie lacks the earlier one's urgency and intimacy. I admired it, but I can't say I enjoyed it.

Conscious of giving the people a little action and a few pretty faces to look at, Cannes programmers also had John Hillcoat's brisk, bloody Prohibition-era drama "Lawless" screen in competition Saturday. The movie features rising stars Shia LaBeouf (of "Transformers" fame) and Tom Hardy (soon to be ubiquitous as the villain in Christopher Nolan's final "Batman" chapter), both quite good as bootlegger brothers in Virginia fighting off corrupt authorities who want in on their corner of the illegal moonshine trade. A third brother is played by the lesser-known Jason Clarke, while two of the best actresses of the moment, Jessica Chastain and Mia Wasikowska, do what they can with thinly written love interest roles.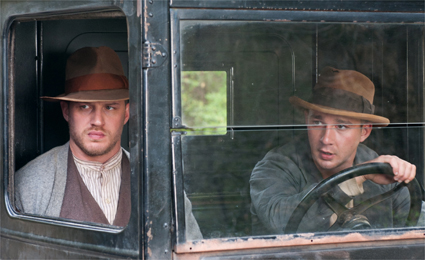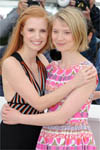 "Lawless" is tautly paced and steeped in Southern atmosphere – whiskey, bluegrass, and country accents – and generous applause at the end of the press screening indicated that critics were thankful for some gunfights and eye candy. For the latter, at least, it doesn't get much better than LaBeouf's puppy dog eyes, Hardy's ripe pout, and Chastain's and Wasikowska's porcelain skin and high cheekbones (pictured right). But the film's breezy, brutal mix of violence, romance, and redemption feels like nothing new, and Hillcoat (an Australian, whose last effort was a weak adaptation of Cormac McCarthy's "The Road") never slows down to ponder what any of it means.

As we left the screening, one French critic turned to a baffled-looking colleague, remarking that "Lawless" was "almost Buñuelian, in a way".

Err, if you say so. I had already forgotten the movie by lunchtime.

A movie I will not soon forget, and one also driven by young talent (though in this case, behind the camera), is 23-year-old French-Canadian Xavier Dolan's dazzling "Laurence Anyways", screened in Un Certain Regard and the most exciting thing I've seen so far this festival.
Telling a two-hour-forty-minute, decade-spanning story of a young literature professor (French actor Melvil Poupaud) who starts dressing as a woman, Dolan's film is wildly ambitious both in form and in the ideas about gender, identity, society, and love that it digs into with infectious gusto. The result is imperfect: a movie overripe with pain and passion, full of jagged edges, loose ends, and visual risks. But after the uneven "I Killed My Mother" and the gorgeous "Heartbeats", "Laurence Anyways" is a big step forward in the evolution of Dolan's inspired, propulsive anything-goes style (slow-mo, candy-colored visual patterns, music in sync with characters' inner states, slightly cartoonish costumes, flourishes of fantasy like clothes floating down from the sky or floodgates opening up from the ceiling), as well as in emotional maturity.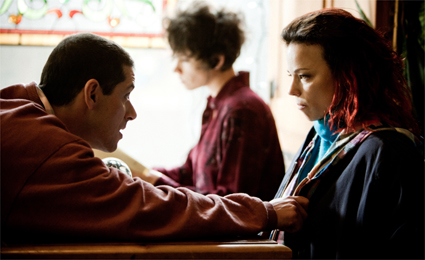 Dolan doesn't overly fetishize or psychoanalyze Laurence and his cross-dressing ways. Indeed, the most surprising thing about the film is that it's just as concerned with the impact of Laurence's choice on his adoring girlfriend (played, in a powerhouse performance, by Quebecoise actress Suzanne Clement) as it is with the protagonist's own journey. As a portrait of two people trying to balance their love for one another with their individuality, "Laurence Anyways" has the sweep, density, and nuance of a good, thick novel.

As a bonus, Dolan coaxes a tart, touching supporting performance out of famous French actress Nathalie Baye as Laurence's distant mother.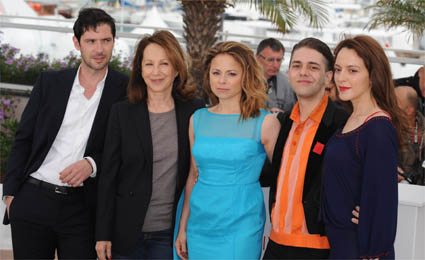 Xavier Dolan and the cast of "Laurence Anyways" at a photocall Saturday. (Mehdi Chebil)

Boldness in cinema is often much maligned (remember "Tree of Life" last year), and people here are already griping that Dolan has overreached, greedily helping himself to a buffet of cinematic devices and tricks. The point these critics are missing is that the director's stylistic choices are, for the most part, grounded in his story; his formal "excesses" directly reflect the excesses of the people in his films, their feelings, and the situations they find themselves facing. Dolan is the rare director who uses his camera to turn his characters inside out.

"Laurence Anyways" may be overlong, and has a few bothersome narrative gaps (Dolan tiptoes unconvincingly around the nature of Laurence's sex life), but it's a challenging, intoxicating piece of work.

Why it was not picked for the main competition – which has, so far, been underwhelming – is beyond me.
Comments or opinions expressed on this blog are those of the individual contributors only, and do not necessarily represent the views of FRANCE 24. The content on this blog is provided on an "as-is" basis. FRANCE 24 is not liable for any damages whatsoever arising out of the content or use of this blog.