Mon, 05/21/2012 - 17:55
At Cannes, cinema without borders and an 'Indian Brigitte Bardot'
As promised, a handful of French feminists stormed Cannes Sunday night to protest the absence of female directors in competition this year.

Five women donning fake beards (the trademark of a French feminist group known as the "The Beard") and holding up signs, pictured below, planted themselves on the famous red-carpeted steps before the gala screening of Michael Haneke's drama "Amour".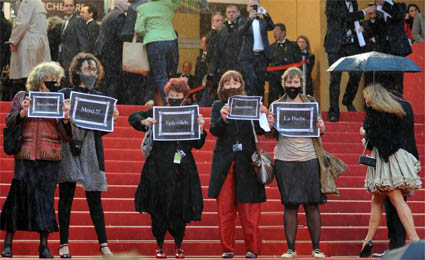 But according to our very own red-carpet photographer, Mehdi Chebil, fellow professional picture-snappers were eagerly awaiting the arrival of more glamorously outfitted women, and paid the protesters little mind. "They weren't in evening gowns and high heels," Mehdi noted bluntly. "Cannes is a superficial world."

That's true, and the lack of female filmmakers at the festival this year is disheartening. Even more so are reports that a much-anticipated movie by one of two women directors picked for the Un Certain Regard sidebar section – Sylvie Verheyde's "Confessions of a Child of the Century", starring Charlotte Gainsbourg and Pete Doherty – was so disastrously bad that half the critics at the press screening yesterday fled before the end.

If Cannes was not a model of gender equity this year, one could hardly accuse the festival of short-shrifting geographic diversity. In total, 26 countries are represented in the selection (sidebar categories included). More notable still is the globe-trotting, borderless nature of some of the films in competition. Ulrich Seidl's "Paradise: Love" is an Austrian film set in Kenya; "Lawless" and "Killing Them Softly" are American movies directed by Australians; "On the Road", adapted from Jack Kerouac's iconic American novel, was made by Brazilian Walter Salles.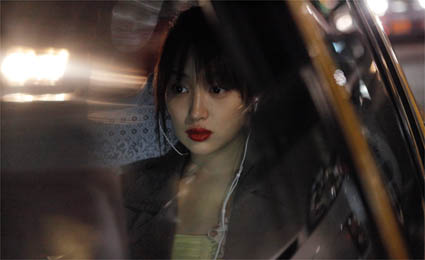 Two of this year's most striking examples of "globalized cinema" were unveiled in competition Monday: Iranian filmmaker Abbas Kiarostami's Japan-set "Like Someone in Love" (above) and Hong Sang-soo's "In Another Country", a Korean film starring French actress Isabelle Huppert.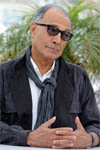 This is not the first time Kiarostami (pictured right), who took home the Palme d'Or in 1997 for "The Taste of Cherry", has ventured out of his native Iran; he was in competition in 2010 with "Certified Copy", which takes place in Italy.

The director's new offering, a lovely, but minor riddle of a film about thwarted desire and mistaken identities, may take place in Tokyo, but the Kiarostami touch is on full display: the tale of the intersecting paths of a young prostitute, her brutish boyfriend, and an older intellectual has the delicate contrivances typical of the filmmaker's work, and much of the action takes place in tightly enclosed spaces (long conversations in cars are one of Kiarostami's trademarks).

"Like Someone in Love" is gorgeously shot, but the movie lacks the dark streak of unpredictability that made "Certified Copy" a slightly richer viewing experience. The film is never less than pleasing to watch, but it left me - as Kiarostami's stuff often does - with an impression of much ado about not a whole lot. Travelling to new lands is great, but I'd like to see the director truly change it up by stepping outside his comfort zone of elusive exercises.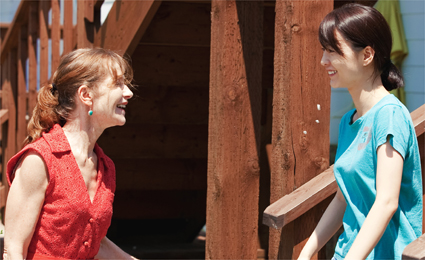 Speaking of leaving comfort zones (and of elusive exercises), Isabelle Huppert (above, left), the screen queen of damaged French women (see Michael Haneke's "The Pianist" or Christophe Honoré's "My Mother"), lightens up in Hong Sang-soo's playful doodle "In Another Country". Playing three different roles – each a French tourist visiting the Korean seaside – Huppert giggles, flirts, and speaks charmingly accented English with an array of Korean characters. As usual, Hong has fun zooming, panning, and toying with structure and narrative repetition, though the film doesn't have the powerful undercurrent of regret typical of the his best work (check out 2002's "Turning Gate").

In any case, the trend of performers turning to foreign directors and distant lands will continue in upcoming competition films; Juliette Binoche and Mathieu Amalric have key roles in Canadian David Cronenberg's "Cosmopolis", while US actress Eva Mendes and Australian pop star Kylie Minogue are featured in Frenchman Leos Carax's "Holy Motors".

Less prominent examples of actors and actress crossing borders in search of new challenges – and greater fame – can also be found a bit further from the spotlight at Cannes. Accompanied by my French counterpart, Guillaume Guguen, I sat down for a coffee with statuesque Bollywood actress Mallika Sherawat on the bustling patio of the Grand Hotel.

Sherawat (pictured below), who looks to be no more than 30 years-old ("an actress never gives her age," she demurred) and studied philosophy at Delhi University in India, has her sights set on Hollywood. She goes back and forth between India and Los Angeles, and says that after her lead role in a well-received 2011 US indie called "The Politics of Love" (a romantic comedy in which she plays a Democrat romancing a Republican), she's "taking a lot of meetings" and has "top managers" in the US.

"Time Magazine called me the 'Indian Brigitte Bardot'," she declared proudly.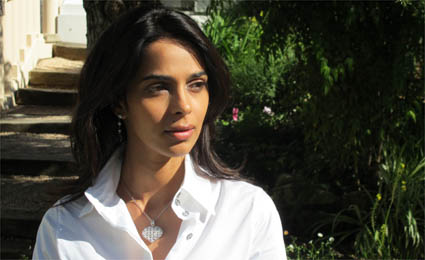 Meanwhile, she noted, she's perceived as somewhat of a rebel back in India. "I was the first Bollywood actress to kiss or wear a bathing suit onscreen," she told us. "The youth of the country loves me, but not the older generation."
In Hollywood, Sherawat is able to branch out a bit. "I'm lucky, because since 'Slumdog Millionaire', it's a good time to be an Indian actor in Hollywood," she said, adding that casting directors consider her "ethnically ambiguous" – something that allows her "to read for parts that are Middle Eastern, Mexican, Brazilian, and anything not explicitly Caucasian".

The American film industry is not the limit, Sherawat hopes. Though she speaks no French, she is a fan of French cinema and would love to work with actor Jean Dujardin (of "The Artist"). "Who doesn't?" she gushed.

Also on her radar are Iranian director Asghar Farhadi ("'A Separation' is a masterpiece," she said) and Serbian filmmaker Emir Kustirica, whom she met at Cannes last year. "We talked about films, it was great," Sherawat told us. "That's what's so special about Cannes compared to other festivals. It's an international melting pot for cinema."
Tags for all blogs :
Comments or opinions expressed on this blog are those of the individual contributors only, and do not necessarily represent the views of FRANCE 24. The content on this blog is provided on an "as-is" basis. FRANCE 24 is not liable for any damages whatsoever arising out of the content or use of this blog.