Wed, 05/23/2012 - 18:21
Amid Palme d'Or gossip, 'Holy Motors' steals 'On the Road' thunder
Every year just past mid-point at Cannes, conversation turns to which film is "Palme-able" (pardon the obnoxious Franglish) – meaning which competition entry could conceivably ignite the jury into awarding it the top Palme d'Or prize. The Oscars are fun and all, but in terms of giving a movie an air of artistic legitimacy, nothing compares to the ultimate Cannes honor.

This year, people first uttered the "P word" in talking about "Amour", Michael Haneke's wrenching, but surprisingly restrained examination of old age, death, and unshakeable devotion, when it screened Sunday morning. Diehard Abbas Kiarostami fans also floated the possibility that the moody, elusive "Like Someone in Love" would bring the Iranian director his second brush with Cannes glory. And despite very mixed reactions to 89-year-old French filmmaker Alain Resnais's "You Ain't Seen Nothin' Yet", some wondered if the jury would finally give the guy a Palme d'Or (it's his fifth time in competition).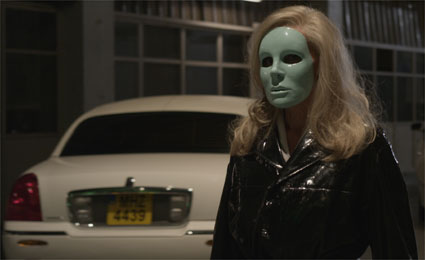 But Tuesday night, most chatter about those films was eclipsed when French director Leos Carax unveiled his latest opus, the experimental, funny, deliriously original and occasionally maddening "Holy Motors" (pictured above). Carax's "Lovers on the Bridge", a romance between two homeless Parisians, is remembered by many for its budget-busting shooting delays and costly construction of a set to stand in for famous Parisian landmark Pont Neuf. But the film also had sequences of sublime, soaring beauty; who could forget Juliette Binoche and Denis Lavant drunkenly leaping and dancing across the bridge as bits of various songs played one by one, as if some kind of higher power was surfing radio stations?

If nothing in "Holy Motors" approaches the ecstasy of those few minutes, Carax's new film, about a mysterious man who shape-shifts from identity to identity, is a richer viewing experience than "Lovers" - and more purely imaginative than anything that has screened in competition yet.

That doesn't mean the movie is always fun to watch; it's essentially constructed as a series of encounters – with Lavant playing a different person (or creature) in each – and some are better than others. One in which Lavant incarnates some kind of hybrid creature (part man, part leprechaun, part rat) who speaks his own language, kidnaps a supermodel played by Eva Mendes (pictured below, with Lavant), eats clumps of her hair, and dresses her in a burqa is the strangest, most brilliant stretch of cinema I've seen at Cannes this year. Other segments, like a soppy musical number with Kylie Minogue as a fellow identity-hopper or an extended, sci-fi-inflected contemporary dance routine with a latex-clad woman, overstay their welcome.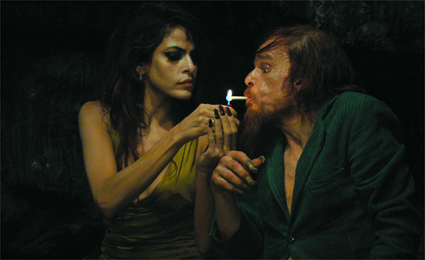 But the conceptual boldness of "Holy Motors", with each segment seeming to conjure a different genre (in addition to sci-fi/fantasy, musical, and experimental/dance, there is also tragedy, gangster film, political thriller, and family drama), makes it an unpredictable ride – and one worth repeating. The movie lends itself to various interpretations – is it a meditation on actors, who thrive, suffer, and exhaust themselves jumping from role to role? – and left me wanting to see it again to get a firmer grasp.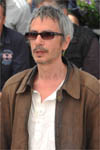 Carax (left) may not be a consistent or disciplined filmmaker, but he's in love with cinema, the power of visual stimulation, and his own peculiar way of processing and representing the world. The scope, audacity, and cosmic dimension of "Holy Motors", as well as the mix of elated cheers and dismissive boos that greeted it here, make it sound like a Palme d'Or frontrunner to me – perhaps this year's "Tree of Life"?

No such buzz, or such strong reaction, has surrounded Walter Salles' unfairly maligned "On the Road", a lovely adaptation of Jack Kerouac's classic beat generation novel. The book (which I admittedly have not read) has long been deemed unfilmable. But Salles has proven the contrary, bringing evocative images, fresh faces, and some fine emotional shadings to the famous, rambling tale of friendship, love, sex, drugs, jazz, literature, and the American landscape. People at Cannes were bashing this movie before it even screened, and the sniffs of disdain and unflattering comparisons to the novel that I overheard on the way out of Wednesday's press screening reeked of pre-conceived notions and pre-formed opinions.

Yes, British actor Sam Riley is a bit mannered (and his husky voice a bit forced-sounding) as Kerouac surrogate Sal Paradise. Yes, the look of the film (grainy cinematography and lots of light-soaked shots), its restless handheld camerawork, jumpy editing, and vast landscapes feel too polished and familiar. And yes, the movie drags in the middle, with Salles never bothering to tame the source material into a tightly structured plot. But "On the Road" is a film of grace and feeling. The director of the "The Motorcycle Diaries" (which I think is a lesser film than "On the Road") is more interested in moments of quiet revelation than fireworks or catharsis, which may bother fans of the book, but struck me as a fine, perhaps even personal approach. He also has a delicate touch when it comes to the often hazardous territory of period reconstitution.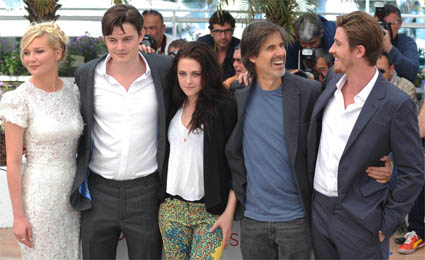 Kirsten Dunst, Sam Riley, Kristen Stewart, Walter Salles, and Garrett Hedlund at a photo call Wednesday (Photo: Mehdi Chebil).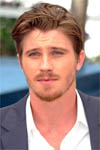 As for his cast, Salles draws a star-making turn from Garrett Hedlund (right), who makes the story's catalyst, magnetic drifter Dean Moriarty, both an irresistible cad and a genuine lost soul: seductive, affectionate, full of energy and appetites, but also narcissistic, self-loathing and selfish when push comes to shove. Kristen Stewart, freed from the shackles of her sulky, stunted "Twilight" character, radiates a raw new sensuality as Dean's 16-year-old bride and partner-in-crime Marylou. The role is sketchily written, but the actress has one great, understated moment of melancholy while listening to a fellow traveller sing in the backseat of the car. Meanwhile, Kirsten Dunst strikes just the right notes of pent-up frustration and hurt as Dean's second wife.
"On the Road" is not a major film, but it lingers in the senses, and the final confrontation on a New York City street between Sal and Dean is a low-key heartbreaker. Part of the pleasure of Cannes, even in what is shaping up to be only a so-so year, is the variety of works shown. There's room here for both Carax's daring and Salles's sensitive workmanship - even if, when the dust settles, there's only one Palme d'Or.
Tags for all blogs :
Comments or opinions expressed on this blog are those of the individual contributors only, and do not necessarily represent the views of FRANCE 24. The content on this blog is provided on an "as-is" basis. FRANCE 24 is not liable for any damages whatsoever arising out of the content or use of this blog.