Fri, 05/25/2012 - 15:39
Heartthrob Robert Pattinson fails to deliver in Cronenberg's 'Cosmopolis'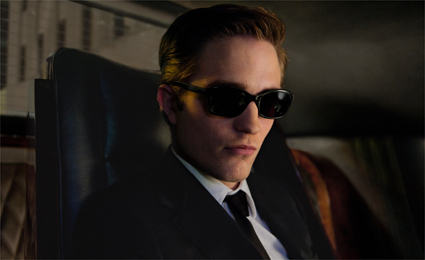 One of the burning questions this year at Cannes was whether the Hollywood sweethearts featured in competition films would be able to deliver.

For Shia LaBeouf ("Lawless"), Kristen Stewart and Garrett Hedlund ("On the Road"), and Zac Efron ("The Paperboy"), the answer was a resounding "yes".

For Robert Pattinson, the handsome star of the "Twilight" series and now David Cronenberg's "Cosmopolis", I'm afraid the news is not as good. Gliding through the Canadian director's sleekly beautiful, dramatically inert adaptation of the 2003 Don DeLillo novel in a perfectly tailored black suit, the actor's face is a pale, flawless mask. But there doesn't look to be much going on behind those piercing blue eyes, nor is there any texture or mystery to the numbness he projects.

Good actors have tried and failed to make blank captivating - think Brad Pitt in David Fincher's "The Curious Case of Benjamin Button" or Ryan Gosling in Nicolas Winding Refn's 2011 Cannes hit "Drive". In "Cosmopolis", Pattinson plays a young multi-billionaire crossing a traffic-jammed Manhattan in a luxurious limousine, and with his vacant stare and flat, rehearsed-sounding line readings, he's at once maddeningly recessive and somehow slightly hammy. You see him working hard to play it cool.

Pattinson is not the only problem. From the first scene, "Cosmopolis" is stopped dead in its tracks by stagey, self-consciously clever, and jargon-heavy dialogue that was presumably lifted directly from DeLillo's novel. The result is a stilted-sounding film, and not even Cronenberg's typically gorgeous high- and low-angle shots of the actors, as well as one glorious moment of erotically charged Cronenbergian body horror (Pattinson getting a rectal exam while conversing face-to-face with a hot-and-bothered female underling), can stir it from its stylish torpor.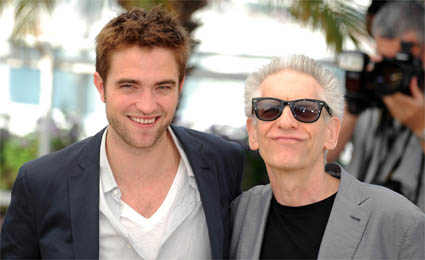 Robert Pattinson and David Cronenberg at a photo call on Friday. (Photo: Mehdi Chebil)

Encounters with a variety of strenuously colorful characters – a lover played by Juliette Binoche (below) and a pair of foes played by Mathieu Amalric and Paul Giamatti, to name a few - don't breathe any life into things, mainly because all of them speak in the same trite, pseudo-philosophical manner that often makes "Cosmopolis" feel like a bad play shot by a visually accomplished director.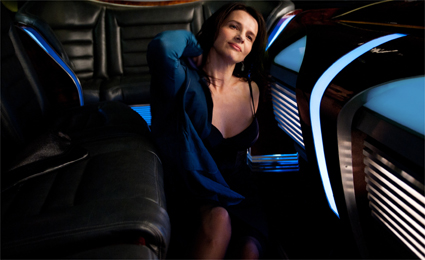 After the rigorous intelligence and unsettling romantic ache of last year's "A Dangerous Method", Cronenberg's new work is a big step backward. But if the film certainly doesn't afford Pattinson the platform to greater things that he was likely looking for, one glance at the actor at the "Cosmopolis" press conference Friday morning was enough to keep hope alive. Visibly flushed with the excitement of being at Cannes alongside a major director, Pattinson appeared jovial, flaunting a million-dollar smile and an easy charm that have yet to come across in his onscreen roles.

Memo to casting directors in Hollywood: let the guy keep his English accent and shake off his air of studly calm, then cast him in a goofy romantic comedy or hand him a tasty character part that allows him to cut loose a little.

Speaking of tasty character parts, the annual ceremony for the Palme Dog was held on Friday. Yes, you read that right; it's an award for the best performance by a canine in a film at Cannes, founded by British journalist Toby Rose in 2001.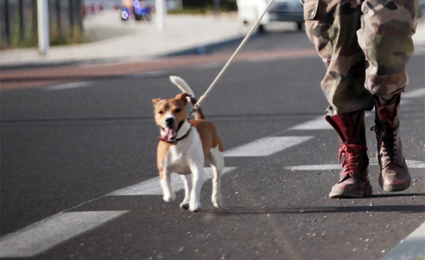 This year, dogs had crucial and rather challenging roles in competition entries like Wes Anderson's "Moonrise Kingdom" and Thomas Vinterberg's "The Hunt". But the jury, composed of film critics from around the world, chose to single out three furry, four-legged performers outside the main line-up: Banjo and Poppy, two terriers from the Directors' Fortnight entry "Sightseers", shared the top prize, a fake-diamond-encrusted collar; and Billy Bob (pictured above), a Jack Russell, snagged the second-place Grand Jury Prize for his work as a punk's companion in "Le Grand Soir" (a French road movie screened in Un Certain Regard).

Neither dog was present to collect his prize.
Tags for all blogs :
Comments or opinions expressed on this blog are those of the individual contributors only, and do not necessarily represent the views of FRANCE 24. The content on this blog is provided on an "as-is" basis. FRANCE 24 is not liable for any damages whatsoever arising out of the content or use of this blog.