Fri, 05/20/2011 - 16:58
Cannes juror Nansun Shi: 'There has been very healthy debate'
In the last days of a film festival, there is always feverish speculation about who will win what. Terrence Malick's "The Tree of Life" and Lars Von Trier's "Melancholia" are the two films that have really gotten critics' pulses racing – with both adoration and disdain – though many of the people who love one don't care for the other (I myself am a proud member of Team Tree, and think the Lars Von Trier film is essentially a beautiful bore). Listen to my take on the rivalry below.

But the buzz among journalists is pretty much irrelevant, because the jury – apart from the token intellectual, literary critic (and daughter of Ingmar Bergman) Linn Ullmann – is composed of industry professionals: actors, filmmakers, and producers. In other words, the people who pick the prize-winners are the ones who have themselves often felt the sting of a critic's pen -- so don't expect their choices to necessarily reflect the whims and wishes of the press.

That said, it's fun to play foolhardy guessing games, trying to match up films and performances in the running with jurors' known tastes and affinities. It didn't take a great leap of the imagination last year, for example, to predict that Apichatpong Weerasethakul's dreamy, supernatural non-sequitur of a film, "Uncle Boonmee Who Can Recall His Past Lives", would strike jury chief Tim Burton's fancy. Similarly, no one was shocked the year before when French actress Isabelle Huppert's jury gave the top award to Michael Haneke, the man who directed Huppert to her own Cannes glory (Best Actress in 2001 for "The Piano Teacher").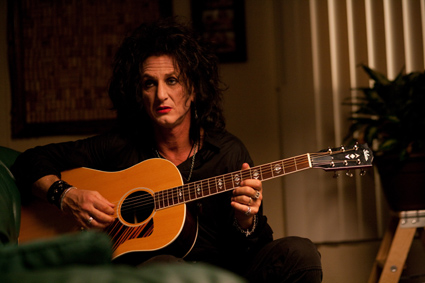 Today's competition films, both American stories directed by Europeans, could ostensibly by jury pleasers this year. Paolo Sorrentino's moderately entertaining, erratically directed train wreck of a road movie "This Must Be the Place" stars Sean Penn (above) as an aging rock star hunting down the Nazi who tormented his father in Auschwitz. Could Penn's campy performance (complete with drag-queen makeup, an Edward Scissorhands hairdo, and a whispery voice that sounds like Rain Man crossed with Charlotte Gainsbourg crossed with a lot of Xanax) appeal to his friends and former co-stars on the jury? That would be Uma Thurman (they worked together on Woody Allen's "Sweet and Lowdown"), Jude Law (Penn's costar in "All the King's Men"), and Robert De Niro (the two played criminals posing as priests in "We're No Angels").


Or will the jury be won over by "Drive", Danish Nicolas Winding Refn's stylish, intermittently gripping exercise in LA neo-noir that's far too self-conscious and empty-headed for its own good? Several of the jurors' careers have been marked by similarly tough, violent thrillers: Robert De Niro's gangster roles, Uma Thurman's "Kill Bill" movies, Hong Kong director Johnnie To's crime flicks, and Chinese producer Nansun Shi's hardboiled Hong Kong projects like "Infernal Affairs".


We caught up with Nansun, pictured below, for a quick interview about her experience as a Cannes juror this year, as well as her take on the differences between men and women filmmakers.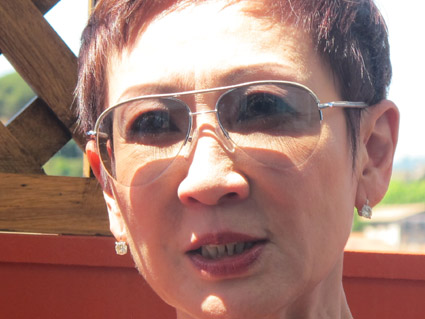 Many films this year's jurors have done – your films, Johnnie To's, Robert De Niro's, Uma Thurman's – are action movies or thrillers. Are these the kind of competition movies that will be popular with the jury?

Not necessarily. It's always difficult to be in a jury situation. We have to watch 20 films. And we are comparing the 20 films. We are not comparing them to the thousands of other films in the world. We look at these 20 films, seeing the merits and demerits of each, and comparing performances, for instance -- the performance of the gentleman in one film compared to the male performances in the 19 other films. We know we came to watch all kinds of different movies, and not necessarily "genre" movies. We all came very prepared.

Has there been a lot of debate, or have most of the jurors agreed on the films?

There has been very healthy debate -- which is good. Diversity is great in filmmaking.

There are four women directors in competition this year. Do you think there's a difference in the way men and women filmmakers work?

When I was young, I used to dislike it a lot when people were making a difference between men and women as filmmakers. But actually, as I got older, I realised there is a certain difference in sensitivity. We generalise of course. But it is true that women, because of their childbearing ability, are more sensitive, more loving. On set, I've seen men directors, and in order to get what they want, they have to be utterly ruthless. Some women filmmakers I've worked with, they tend to not go that route. Sometimes you can tell the difference between films made by men and women. Some films are so loving and sensitive, you think it must be a woman director. And sometimes you're surprised to find it's not.

Does being on the jury at Cannes mean you spend all day in screening rooms and jury deliberations, or do you go out and have fun, too?

Oh, we go out. This is Cannes. It's a festival!

Comments or opinions expressed on this blog are those of the individual contributors only, and do not necessarily represent the views of FRANCE 24. The content on this blog is provided on an "as-is" basis. FRANCE 24 is not liable for any damages whatsoever arising out of the content or use of this blog.