Sat, 05/21/2011 - 20:23
Two late-festival gems, and if I could pick the Palme….
We're 24 hours from the closing ceremony, and if yesterday's conversations on the Croisette revolved around who would win the big prizes, today is the time to indulge in the ultimate film critic's fantasy: being a one-person jury.

Given the sheer number of films that play at the festival (as well as press conferences, interviews, writing, waiting on line, and a few maintenance routines like, you know, eating, showering, and sleeping), you inevitably miss some stuff. I, for one, have not yet seen four of the movies in competition: the two Japanese entries, Naomi Kawase's "Hanezu" and Takashi Miike's 3-D "Hara-Kiri: Death of a Samurai"; Alain Cavalier's "Pater" (which apparently got a standing ovation from French critics, but was greeted with yawns and eye rolls from everyone else); and the final competition entry, which screened for the press this morning, Radu Mihaileanu's "The Source" (not to pre-judge, but I've seen his last film, "The Concert", and getting two extra hours of sleep seemed like a wiser option for me today). I plan on catching at least two of these tomorrow, when all competition movies are screened again.

As for the rest, I saw three excellent competition films that rose far above the rest of the overall rather so-so pack: Terrence Malick's "The Tree of Life", Joseph Cedar's "Footnote", and Turkish filmmaker Nuri Bilge Ceylan's "Once Upon a Time in Anatolia", which screened last night and was a late-festival revelation.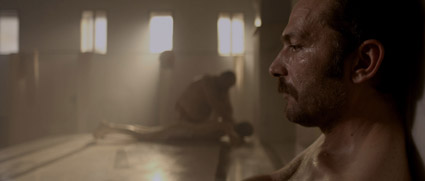 The new work from 52-year-old Ceylan – who's already been in the main competition here three times -- runs a daunting 2 hours and 37 minutes, and sent many exhausted journalists stumbling for the exit long before the end. Too bad. The film is a mournful, magisterially directed slow burn of a police procedural, in which a pathologist, a prosecutor, a few cops, and two handcuffed killers spend 24 hours looking for a dead body in the Turkish countryside. What emerges piece by piece is a richly textured portrait of the discontented souls of a few working men, as well as a rumination on the passing of time and the ravages of regret.

Ceylan's breathtaking widescreen images of the vast rural setting and his sensitivity to its mood and how it sounds (a howling night wind practically becomes another character) serve as a fascinating counterpoint to searching, hauntingly lit close-ups of his actors' faces, by turns placid and anguished. "Once Upon a Time in Anatolia" is a challenging, languorously paced movie (a poor choice for the end of a long festival), but it grows more transfixing by the minute, lingering and expanding in the mind long after the lights come up.


Another end-of-festival discovery was the inexplicably out-of-competition closing film, "The Beloved" ("Les bien-aimés"), Christophe Honoré's glorious, globetrotting musical about desire, heartbreak, and different kinds of love – especially the unrequited variety. The ambitious 2-and-a-half-hour movie spans decades (from the 60s to 2007) and cities – Paris, Prague, London, Montreal – to tell the story of a mother (played by Ludivine Sagnier and later Catherine Deneuve), her daughter (played as an adult by Deneuve's real-life daughter Chiara Mastroianni), and their romantic entanglements. Louis Garrel, Paul Schneider, Milos Forman, Michel Delpech, and Raka Bukvic play the men in their lives at various points.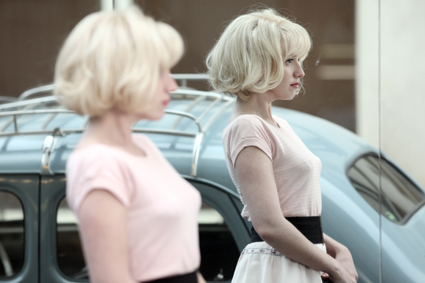 Honoré's last few films have been pretty unwatchable – remote, sloppy exercises in narcissism. And tortured love stories in French cinema have in recent years started to play like parodies of themselves, with the impassioned whispering, lovemaking, and fighting taking on irritating, overly familiar rhythms and tones. But here, as Honoré's characters flirt, clash, confess, reconcile, and occasionally stop to warble a delicate song by Alex Beaupain (who also wrote the music for Honoré's previous musical, the gorgeous "Love Songs"), the interactions are spontaneous and sexy, and the filmmaker is marvellously alive to the tangled emotions onscreen. The romances and near-romances in "The Beloved" feel universal and wrenching, rather than steeped in navel-gazing.

Certain moments – particularly between Sagnier and Bukvic in the film's first section – have a shivery beauty reminiscent of Jacques Demy's "The Umbrellas of Cherbourg" (a major compliment). "The Beloved" is certainly also reminiscent of "Love Songs" – the shots of couples walking toward the camera, chatting or singing have become a stylistic trademark – but it's darker and cuts deeper, as the tides of contemporary history come crashing in to complicate things for the lovers. That said, with close-ups of kisses, caresses, and body parts ardently entwined, it's also one of the most gleefully erotic musicals I can remember seeing onscreen.

If it were in competition, "The Beloved" would definitely be high up in my prize choices.

One note: some juries like to spread the bounty among various films. That's fine if there are several movies worthy of high recognition, but I don't think that's the case this year. So here we go.

Palme d'Or: "Tree of Life" (Terrence Malick)

Grand Prize (second place): "Once Upon a Time in Anatolia" (Nuri Bilge Ceylan)

Jury Prize (third place) : "Footnote" (Joseph Cedar)

Best Director: Terrence Malick ("Tree of Life")

Best Screenplay: Joseph Cedar ("Footnote")

Best Actress: Kirsten Dunst ("Melancholia")

Best Actor: Lior Ashkenazi ("Footnote")

and…

Best dog in a supporting role: Uggy ("The Artist")

Let's see if the jury agrees with any of my choices tomorrow!
Comments or opinions expressed on this blog are those of the individual contributors only, and do not necessarily represent the views of FRANCE 24. The content on this blog is provided on an "as-is" basis. FRANCE 24 is not liable for any damages whatsoever arising out of the content or use of this blog.