Mon, 05/14/2012 - 20:04
Big names, hip casts, and hot topics outside main Cannes line-up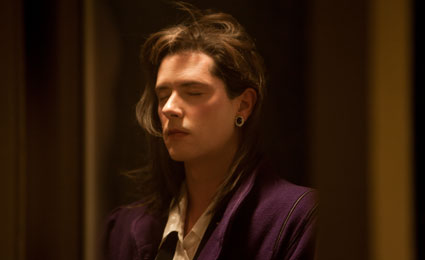 Melvil Poupaud in Xavier Dolan's "Laurence Anyways".

Though the twenty-two films vying for the Palme d'Or get the most intensive press coverage at Cannes, some of the hottest tickets at the festival are often outside the main competition. Last year, Woody Allen's "Midnight in Paris", a comedy about soon-to-be-former French President Nicolas Sarkozy, and the latest from imprisoned Iranian filmmaker Jafar Panahi were among the most enthusiastically attended press screenings (think long lines, thrown elbows, and several incidences of near-trampling on the way in to the theatre).

Here's a peek at some of the juiciest-looking movies that won't be jockeying for the biggest prizes at Cannes this year – but will likely draw some of the most impatient crowds and drive some of the most impassioned pre-and post-screening conversations.

Big names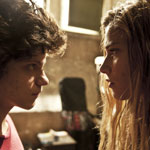 Iconic Italian filmmaker Bernardo Bertolucci will unveil his new movie, the Italian-lanugage "Me and You (Io e te)", out of competition. The film tells the story of a boy hiding out in a basement with his half-sister (pictured left), and advance word from critics who've seen it seems to be that it's "minor Bertolucci". That's OK – not every film can be as groundbreaking as "Last Tango in Paris". The director is probably just hoping his new movie isn't greeted with the frosty reception accorded the last film he screened at Cannes, 1996's "Stealing Beauty" (starring Liv Tyler).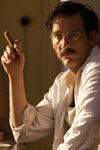 Also selected in the out-of-competition category is American vet Philip Kaufman's HBO movie "Hemingway & Gellhorn" (trailer below), starring Clive Owen (right) as the legendary writer and Nicole Kidman as his third wife, World War II correspondent Martha Gellhorn. Earlier in his career, Kaufman achieved critical glory with films like "The Right Stuff" and "The Unbearable Lightness of Being". But his last outing, 2004's "Twisted", a thriller starring Ashley Judd, took a severe beating from critics. Eight years later, armed with a duo of talented stars and a meaty subject, this could be Kaufman's big comeback.


Another popular attraction at Cannes this year is likely to be Michel Gondry's "The We and the I", which will open the independent sidebar "Director's Fortnight". The movie sounds intriguing: it's about a bunch of Bronx high-school students (played by unknowns) on the bus home after the last day of school. Gondry, a talented French director who has carved out his own quirky niche in American film, has yet to match the beauty and inspiration of his 2004 masterpiece "Eternal Sunshine of the Spotless Mind" – which means hopes are high and interest is piqued with every new work he releases.

Young talent

Meanwhile, a couple of younger directors will probably hog much of the spotlight in the Un Certain Regard section (a group of films selected by Cannes organisers for their "original vision", but often seen by the press as those that didn't quite make the competition cut). First and foremost is Quebecois wunderkind, 23-year-old Xavier Dolan, with the 161-minute, 1980s-set "Laurence Anyways", about a 30-year-old man who decides to become a woman – and the girlfriend who stays by his side. Dolan's first two films were so accomplished (particularly "Heartbeats"), and the trailer (below) for his new movie so vibrant and alluring, that many expected "Laurence Anyways" to end up in the main line-up. If it's good, expect to hear gripes that it didn't.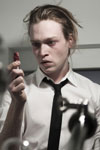 The other young filmmaker on many a radar in Un Certain Regard - though more for his name than his body of work - is 32-year-old Brandon Cronenberg, son of David (who is in competition with "Cosmopolis"). "Antiviral" (left), the feature-length debut by Cronenberg fils is about a salesman who injects customers with their favorite celebrities' diseases. It's a twisted sci-fi pitch worthy of the elder Cronenberg. But if the movie bombs, expect boos, cries of nepotism, and other expressions of festival-going displeasure.

Hip casts

Other movies are getting more attention for the people in front of the camera than those behind it. One example is Sylvie Verheyde's "Confessions of a Child of the Century" (Un Certain Regard), an adaptation of an autobiographical work by French writer Alfred de Musset and starring French actress-singer Charlotte Gainsbourg and British indie rocker Pete Doherty as 19th century lovers (pictured below). The pairing of the gorgeously disheveled Gainsbourg – an emblem of Parisian grunge-chic and the daughter of legendary singer Serge – with the famously rowdy, formerly drug-addicted Doherty may be enough to send the festival's hipster contingent into fits of ecstasy.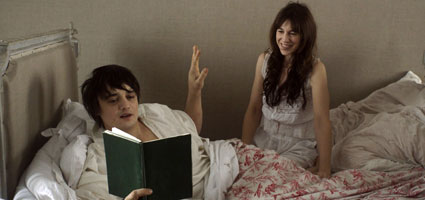 Another duo bound to set pulses racing in Un Certain Regard is that of Tahar Rahim (the charismatic French-Arab star of Jacques Audiard's "A Prophet") and Emilie Dequenne (the heroine of the Dardennes' "Rosetta") headlining Joachim Lafosse's "Loving Without Reason". In the Belgian film, the two fresh-faced performers play newlyweds whose bond is strained by their ties to an older doctor.

For Anglophiles, there's Rufus Norris' "Broken", which opens Critics' Week (a sidebar line-up of first and second films selected by a committee of French critics) and features two of the most magnetic British actors around, Tim Roth and Cillian Murphy, in a story about the aftermath of a violent attack.

Hot topics

Several films outside the main competition this year will likely generate buzz for their controversial or topical subject matter. In Un Certain Regard, Moroccan director Nabil Ayouch will present "God's Horses", described as a political drama about the perpetrators of the 2003 terrorist bombings in Casablanca.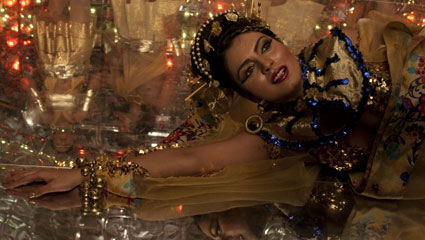 Also sure to be a much-discussed entry in Un Certain Regard is "Miss Lovely" (above), a debut feature from Indian director Ashim Ahluwalia about India's seedy, violent, semi-pornographic "C" movie industry in the 1980s.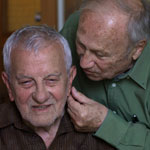 And one of the most buzzed-about documentaries to be unveiled in the festival's "Special Screenings" section could be French filmmaker Sebastien Lifshitz's "The Invisibles" (right), which focuses on French citizens who struggled to live openly as gays and lesbians between the two World Wars. With the new French president having announced his support for laws legalizing gay marriage and adoption by gay couples in France, "The Invisibles" could have particular resonance.
Below, listen to me and fellow film critic Lisa Nesselson (France 24, Screen International) talk about what to expect and what to look forward to at this year's festival.


Tags for all blogs :
Comments or opinions expressed on this blog are those of the individual contributors only, and do not necessarily represent the views of FRANCE 24. The content on this blog is provided on an "as-is" basis. FRANCE 24 is not liable for any damages whatsoever arising out of the content or use of this blog.