Sat, 05/26/2012 - 17:29
Palme of reason or Palme of passion?
Above, listen to a podcast in which I discuss the competition films and likely Palme d'Or winners with fellow film critics Lisa Nesselson and Glenn Heath Jr.

People are hot, tired, and twitchy.

Sure, the sun is shining, and everyone here is short on sleep and hopped up on caffeine. But the symptoms are also typical of an end-of-Cannes malady known as Palme Fever: the anxious, burning desire to know which film will be granted cinema's most internationally prestigious honor.

Of course, what critics want is irrelevant. The jury that distributes the prizes is composed of actors, directors, a producer, and a fashion designer who has dabbled in film – in other words, movie industry professionals with their own experiences, tastes, baggage, and sometimes personal links with filmmakers and performers in competition.

But with the closing ceremony to take place Sunday night, the press is talking about the Palme d'Or as if it were theirs to bestow. "It's obvious, 'Holy Motors' is the Palme," one critic told a another behind me before the lights dimmed at this morning's screening. "Yes," was the matter-of-fact reply. "Or 'Amour'."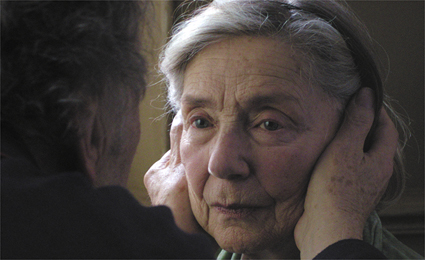 Though neither of those journalists had - to the best of my knowledge - any inside info, the films by Leos Carax and Michael Haneke were easily the strongest in competition this year, and something resembling critical consensus has formed around them. In a line-up with several good movies but nothing that blew me away, "Amour", Haneke's deeply felt, endlessly skillful examination of love and life slipping away, would be a Palme of reason; the film is beautifully wrought from start to finish and features shattering performances by French actors Jean-Louis Trintignant and Emmanuelle Riva (above) as the elderly couple on the edge of the abyss.

"Amour" also represents a refreshing break from the thumb-nosing gamesmanship for which Haneke has come to be known – though I was so busy waiting for the Austrian filmmaker to twist his story perversely that I never let myself be fully pulled in.

The Palme of passion would be "Holy Motors", Carax's strangely loveable, wildly inventive, somewhat inconsistent meditation on life, death, love, identity, film, acting, and other such modest subjects. By turns brilliant and slightly indulgent, captivating and a bit trying, the movie is ample evidence of Carax's flair for mise-en-scène, as well as of the vast talents of his chameleonic lead actor, Denis Lavant (below).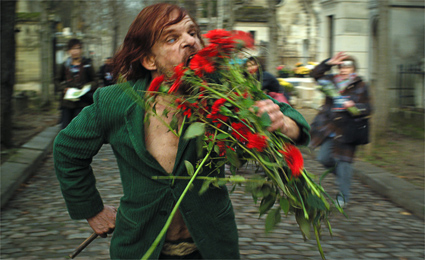 "Holy Motors" features the most ambitious, awe-inspiring passages of cinema on display in competition this year. As with 2011's (richly deserved) Palme d'Or for Terrence Malick's "Tree of Life", the jury may want to reward the sheer scope and artistic daring the film embodies – the sense that the filmmaker is asking the big questions, and digging deep into his bag of tricks to try and answer those questions with images we've never seen before.

The jury's task will be slightly complicated by the fact that official Cannes rules prohibit any film from receiving more than one prize (barring exceptions that must be approved by Cannes president Gilles Jacob). That means that if "Amour" or "Holy Motors" wins the Palme (or the second-place Grand Prize, third-place Jury Prize, directing prize or screenplay prize), none of the three most widely praised performances in competition - Trintignant and Riva in "Amour" and Lavant in "Holy Motors" – will be awarded.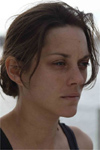 That could leave room for Marion Cotillard (right) or Matthias Schoenaerts, both very good in Jacques Audiard's affecting melodrama "Rust and Bone"; Margarethe Tiesel, the unflinching lead of Ulrich Seidl's redundant sex tourism exposé "Paradise: Love"; or Mads Mikkelsen (below), the besieged hero in Thomas Vinterberg's Danish drama "The Hunt". Less likely - though equally deserving - contenders are Nicole Kidman, unhinged and hilarious in Lee Daniels' "The Paperboy", and Garrett Hedlund, who delivers a star-making turn as charismatic narcissist Dean Moriarty in Walter Salles' "On the Road" adaptation.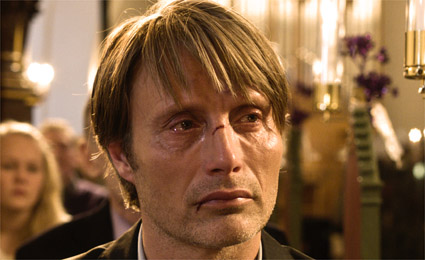 Those two fine American films got little love from critics here, who loudly booed at the first and sniffed suspiciously at the second. A weaker US entry that was nevertheless greeted much more enthusiastically by the press was the competition closer, Jeff Nichols' "Mud". Nichols made the marvellous "Take Shelter" last year, and his new film, an adventure about an Arkansas adolescent (the impressive Tye Sheridan, below) who befriends a fugitive (Matthew McConaughey, doing a less interesting Southern-charmer schtick than in "The Paperboy"), is warm and moderately engaging. But while "Mud" is graced with the same vivid sense of rural American life as "Take Shelter", it has little of the shivery visual power or narrative risk-taking that made the earlier film such a discovery.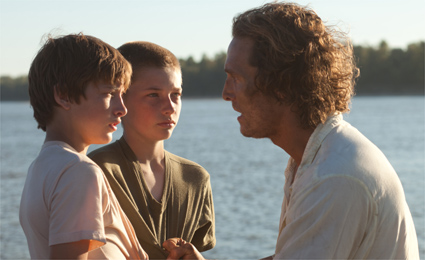 Nichols' story sounds slightly offbeat on paper: McConaughey's character, who's surviving solo on a snake-infested island, has an almost mythical aura, and his plan to run away with his land-locked lady love (nicely played by Reese Witherspoon) gives the romantic subplot a sweet storybook feel. Too bad "Mud" plays like a fairly conventional coming-of-age tale, with plenty of clichéd trimmings (bickering parents at home, a crush on an older girl, childhood illusion fading into adult weariness), predictable plot twists, and sentimental pay-offs.

The 33-year-old Nichols (the youngest director in competition this year) has said that "Mud" is the movie he's been dying to make for the last ten years. I walked out feeling a bit as if I had just watched a talented filmmaker slumming in the mainstream.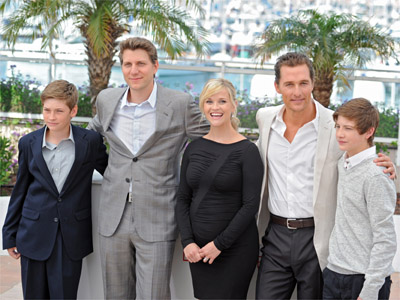 Jacob Lofland, Jeff Nichols, Reese Witherspoon, Matthew McConaughey, and Tye Sheridan at a photo call on Saturday. (Photo: Mehdi Chebil)

That doesn't mean "Mud" won't win anything. Some of the weakest films in competition, like Yousry Nasrallah's soapy political drama "After the Battle" or David Cronenberg's tedious "Cosmopolis", have been mentioned as possibilities for prizes. The former deals with a topic - the Arab Spring - that has been in headlines and on minds around the world for the last year. The latter was made by an internationally cherished filmmaker who people – especially at an auteur-obsessed event like this one – think can do no wrong.
Such is Cannes.
Check back tomorrow for inside information from a source close to the jury, who has accurately handicapped the awards for us the last two years....
Tags for all blogs :
Comments or opinions expressed on this blog are those of the individual contributors only, and do not necessarily represent the views of FRANCE 24. The content on this blog is provided on an "as-is" basis. FRANCE 24 is not liable for any damages whatsoever arising out of the content or use of this blog.